Millions invested for Hoboken's flood mitigation shows limited results
Are you in the new flood zone? Use the FEMA address lookup tool for Region II to find out: Address Lookup
FBW | October 11, 2023
Climate change has wrought more frequent storms of greater magnitude and brought warming temperatures that result in greater quantities of water in our atmosphere. The latest evidence of this occurred in the New York metro area on Friday, September 29.  The intense rainfall completely overwhelmed local sewer systems, turning streets into rivers and low-lying areas into lakes. The governors of New York and New Jersey declared a State of Emergency, as did the mayor of Hoboken. 
This latest rainfall event, a sign of things to come, raises questions about what type of infrastructure investment is needed in our urban areas to lessen future flooding as storm threats worsen.  Since Superstorm Sandy, Hoboken has benefited from a massive infusion of state and federal funds to develop a comprehensive flood mitigation program. However, how effective Hoboken's efforts have been is up for debate.
Hoboken was just one of ten communities to secure a federal Rebuild by Design (RBD) grant, now managed by the State of New Jersey. A team of experts headed by the Dutch architectural firm, OMA, developed this program, entitled Resist Delay Store Discharge. The initial RBD grant was for $230 million, and recently the state committed an additional $100 million for the program. 
Hoboken has built new parks in the low-lying western part of town that include stormwater detention systems with a total capacity of less than several millions of gallons of rainwater. Rain gardens and bioswales have been built throughout town. The North Hudson Sewerage Authority, in partnership with the City of Hoboken, has installed three high velocity wet weather pumps.
Yet, despite these efforts, Hoboken was also inundated by Friday's rain event. Photos and video documenting Hoboken's flooding proliferated on social media. A foot of storm water covered much of the western part of town, peaking at the morning and evening high tides. City officials claimed that the measures taken thus far lessened the impact of this storm and allowed the floodwaters to recede more quickly. 
At this point, Hoboken would be well served to have an independent study to evaluate which measures have been most cost effective. The detention systems, for instance, can store several million gallons of stormwater. An accurate calculation of the volume of stormwater on the 29th would likely show the flood waters could total 10 perhaps 20 million gallons of stormwater at its peak, an amount that greatly exceeds Hoboken's capacity to "store" and later "discharge" the rainwater.  
Hoboken, as well as New York City and most other municipalities, has a combined sewer system that collects both rainwater and untreated human waste. Separating these lines for portions of the City was not included as part of the RBD flood mitigation strategy. Proposals to do this for Hoboken's North End Redevelopment Area were not included in a recently approved developer agreement.
The bulk of the RBD funding will be dedicated to the Resist strategy, a flood wall designed to protect against future storm surges. During Superstorm Sandy, the surge pushed waters from the Atlantic Ocean into the New York Harbor flooding coastal communities throughout the metropolitan area, a relatively rare flooding event not experienced since the 1700s, according to a recent study.* Construction of the floodwall which extends to Jersey City at the south end and to Weehawken at the north, began this past year.
The "resist" floodwall, a direct response to the surge experienced during Superstorm Sandy, however, provides no protection from increasingly frequent major rainstorms, like the one that occurred on the 29th.
After Sandy, the City of Hoboken amended its flood ordinances.  New buildings are now required to build residential units above what is called the Design Flood Elevation. The areas below can contain parking garages and retail space but must be flood proofed so that flood waters entering the lower levels of these structures will be able to withstand the intrusion of water with minimal impact.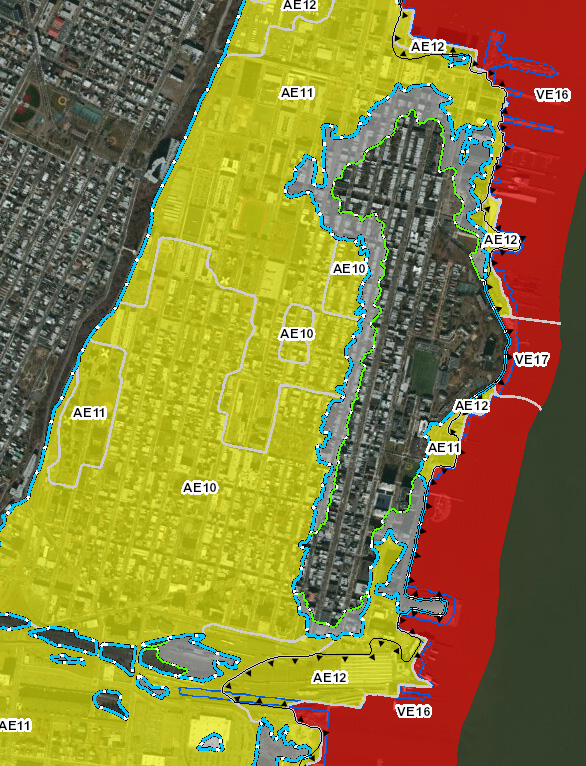 This conforms with the Dutch concept, "learning to live with water," allowing  new buildings the capacity to recover from storms with minor damage. Yet most of Hoboken's buildings are vulnerable, having been built more than a century ago prior to the adoption of this ordinance. Flood maps revised 10 years ago by the Federal Emergency Management Agency (FEMA) show that 75 percent of Hoboken lies within a hazardous flood zone. 
Future storms will again put Hoboken's flood mitigation program to the test. Only time will tell if Hoboken's current strategies will ultimately succeed or need to be revised.