Ron Hine | FBW | March 13, 2023
It takes me less than 15 minutes to walk to my office in the old, industrial Neumann Leathers Building at Hoboken's southern border. My apartment is just around the corner from Church Square Park and the Hoboken Public Library. Within a several block radius, there is a supermarket, two schools, a variety of restaurants and five coffee shops. A bus from New York City stops a few doors down on the corner, and a 15 minute walk will get me to the New York City ferries and trains traveling throughout the region. My doctor's office and dentist are both within walking distance.
Hoboken was mostly developed more than 100 years ago at the turn-of-the-century. Like other communities built at this time, the human scale, density, and mix of residential and commercial uses have created a walkable urban village. Hoboken is an ideal example of what has been termed a 15-minute city. This concept is a way for people to understand the value of creating neighborhoods that are walkable and bikeable where many residents do not need a car.
In fact, 75 percent of Hoboken residents do not own a car. Prior to the pandemic, an estimated 56 percent of Hobokenites took public transportation to get to work. Today, urban planners strive to recreate neighborhoods where residential, commercial and recreational uses are all within walking distance.  
In the 1950s, car culture became dominant in the United States. Roadways were built to facilitate people's ability to drive everywhere. The interstate highway system was built and where it sliced through urban areas, many neighborhoods were destroyed in the process. 
In 1961, Jane Jacobs wrote the classic, influential book The Death and Life of Great American Cities which extolled the virtues of traditional, mixed-use urban communities. She led an epic battle against the legendary urban planner Robert Moses, defeating his plan to run a highway through her beloved Greenwich Village neighborhood. 
In the 1980s, town planners Andres Duany and Elizabeth Plater-Zyberk designed three planned communities on Florida's Gulf coast. The first, Seaside, started a movement among planners to create mixed-use neighborhoods that reduced the dependence on cars. They used older, traditional neighborhoods, Hoboken being a good example, as a model for new development. This trend in the town planning profession was dubbed new urbanism.   
By the 1970s, one of the world's great cities, Paris, France, had become polluted and dominated by cars. Historic pedestrian pathways were converted to automobile thoroughfares. In 2001, Paris Mayor Bertrand Delanoë initiated the world's first major bikeshare program and the city's first climate plan. Anne Hidalgo, Paris' next mayor, built upon this, adopting the term "15-minute city" that had been coined by Carlos Moreno, a professor from the Paris Sorbonne Business School. Mayor Hidalgo replaced many car lanes with pedestrian plazas and further promoted the use of bicycles.
The concept of a 15-minute city has gotten considerable attention lately thanks to a group of conspiracy theorists in Oxford, England. These folks organized demonstrations against this idea, claiming that it was a dystopian scheme to rob them of personal freedoms and confine them to their neighborhoods. So I, and many others, have run to its defense. For me it is personal, having enjoyed the pleasures of living in the lively, urban village of Hoboken for many years, and knowing its many charms.
Beginning in the 1970s, Hoboken's development boom began. New residential and commercial projects were required to provide off-street parking. For each residential unit, one parking spot had to be built. Soon, it became difficult to find parking on the street. Parking difficulties became a deterrent to owning a car in Hoboken. But building parking garages made it easier to use cars and traffic increased as a result. Ground floor parking below new residential units had the added negative impact of deadening the streetscape. Stoops and apartment windows as well as ground floor commercial spaces were replaced with parking garages along Hoboken's sidewalks.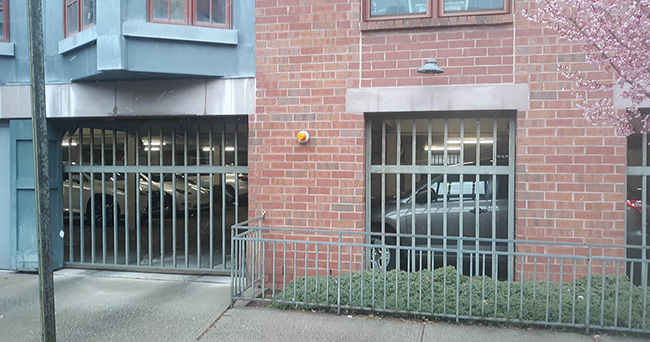 When Dawn Zimmer became Hoboken's mayor in 2009, she instituted bike-sharing programs and bike lanes. Car-sharing was introduced as well and a free bus service that transports people throughout the city. More recently, Hoboken and other urban areas across the country have recognized the value of reducing requirements for one or more parking spaces per unit. A March 9, 2023, article in the New York Times, "Awash in Asphalt, Cities Rethink Their Parking Needs" documents this trend, including images from Hoboken. Zoning codes across the country that designate single-use districts are also being revised to allow for mixed-use zoning.
There are multiple benefits to walkable neighborhoods. I often walk several miles a day, getting to work and back, running errands and doing my shopping. According to a recent study, every 2,000 steps you take reduces your risk of premature death by 8 to 11 percent. Fighting traffic in one's car is stressful. Walking, on the other hand, relieves stress. Walkable neighborhoods also increase your chances of running into people you know, thus providing an opportunity for social interaction and engendering a sense of community.