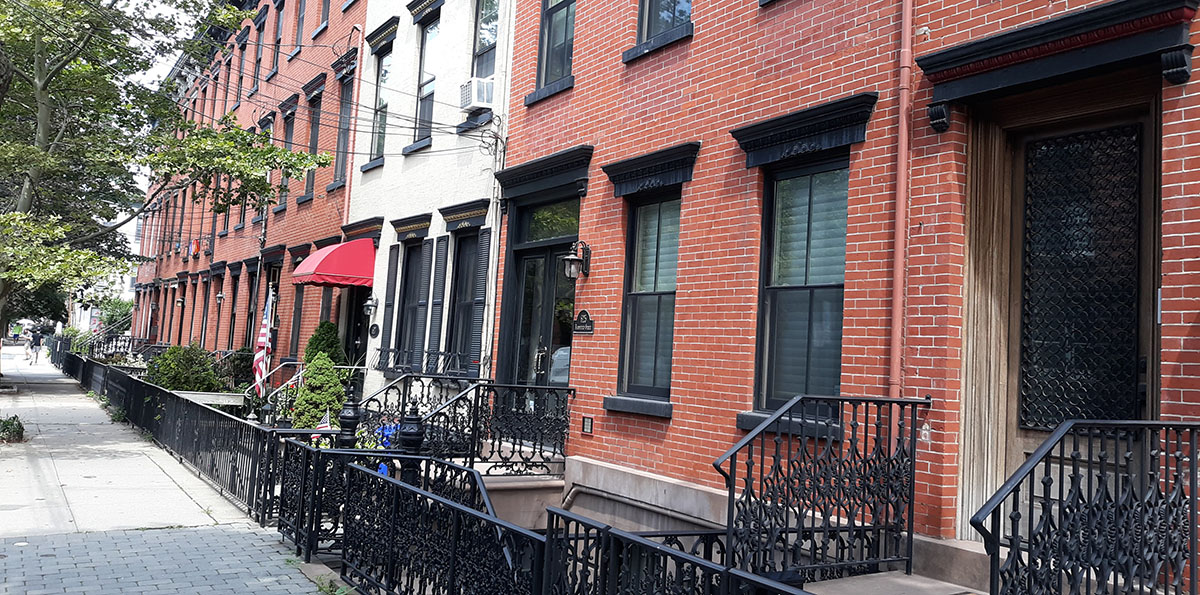 A tour sponsored by the NY Chapter of the Congress for the New Urbanism
Ron Hine | FBW | October 4, 2022
I live at the center of Hoboken, New Jersey, a densely populated mile square urban village. Around the corner from my home is Church Square Park, surrounded by schools, bar-restaurants, the Hoboken Public Library, Our Lady of Grace Church and residential buildings no more than three or four stories high, with nearly all the structures dating from a century earlier. A grocery store is just a few blocks away. I can catch a bus into New York City a block to the west on Clinton Street. Four short blocks to the east is Washington Street, Hoboken's mile-long commercial strip with a myriad of retail shops, restaurants, banks, hair salons and food markets. It is a fifteen minute walk to Hoboken's major transit hub with trains, ferries and the light rail transporting tens of thousands of people throughout the region each day. Rows of older brick and brownstone buildings, built on a human scale andon small lots, create lively, vibrant neighborhoods throughout the town. 
For New Urbanists, Hoboken and similar communities provide a model for how to plan towns and cities. So on Saturday, September 24, the New York Chapter of the Congress for the New Urbanism organized a sold-out tour of Hoboken. Architect Laura Sachs led a group of 30 people, mostly from New York City, pointing out the features that make Hoboken a prototype for New Urbanist principles: the mixed-use neighborhoods, easy access to mass transit, its walkability and lively streetscapes. I was invited to join this outing to answer some questions about FBW's role in the planning and development of Hoboken's waterfront. 
The tour began at the Hoboken South Waterfront in the award-winning park at the water's edge designed in the 1990s by Henry Arnold's landscape architecture firm, Arnold Associates. The decision to extend the city's traditional street grid to the waterfront was a critical one, as it ensured that the new commercial and residential development be built on Hoboken-sized blocks and provide clear pathways to the waterfront. The ground floor retail engenders a lively streetscape.  The tour proceeded to Court Street, Castle Point Terrace, Elysian Park, Maxwell Place Park and upper Washington Street.
The Congress for the New Urbanism was founded in 1993. This organization whose byline is "Building Places People Love" has sought to correct development patterns that took place after WWII with its car-centric, low-density suburban sprawl. Andres Duany is one of the founders of this organization. His firm, Duany Plater-Zyberk & Company, based in Miami, Florida was first recognized as the designer of new towns such as Seaside, Florida and Kentlands, Maryland.
The firm has since worked on hundreds of projects across the country including Liberty Harbor North in Jersey City. In the late 1990s, Duany was invited to develop a plan for an 80-acre former industrial site on the Morris Canal Basin just to the north of Liberty State Park.  At that time, I attended a charrette — an intense planning and design session — conducted by Mr. Duany and later I attended a compelling lecture he delivered at Jersey City's City Hall. Today, half of the 80-acre site has been developed according to the principles of New Urbanism, standing in dramatic contrast to other new development projects proliferating throughout the Hudson County region.
The influence of the Congress for the New Urbanism has spread world-wide. The organization has developed an extensive network of planners, architects, designers and urban thinkers. Each year, they hold an annual conference and have written a detailed document entitled A Charter for New Urbanism. The New York Chapter holds regular events throughout the state, including tours, lectures and book-signings.
The Congress for the New Urbanism recommends a long list of books including Towns and Town-making Principles by Elizabeth Plater-Zyberk and Andres Duany, Walkable City: How Downtown Can Save America, One Step at a Time by Jeff Speck, Street Design: The Secret to Great Cities and Towns by John Massengale and Victor Dover, The Great Good Place: Cafes, Coffee Shops, Bookstores, Bars, Hair Salons, and Other Hangouts at the Heart of a Community by Ray Oldenburg and Suburban Nation: The Rise of Sprawl and the Decline of the American Dream by Andres Duany, Elizabeth Plater-Zyberk and Jeff Speck. 
Also attending the Hoboken tour was Zeke Mermell, the Communications Officer for the New York Chapter. He is a senior urban planner/designer for Sam Schwartz Engineering-Planning-Consulting. Zeke worked for FBW a number of years ago developing detailed plans and presentation materials for Hoboken's waterfront under the supervision of FBW's architect/planner Craig Whitaker.