FBW recommends "air-entrained soil," permeable surfaces and sufficient soil volumes used at the Hoboken South Waterfront for the Sinatra Drive Project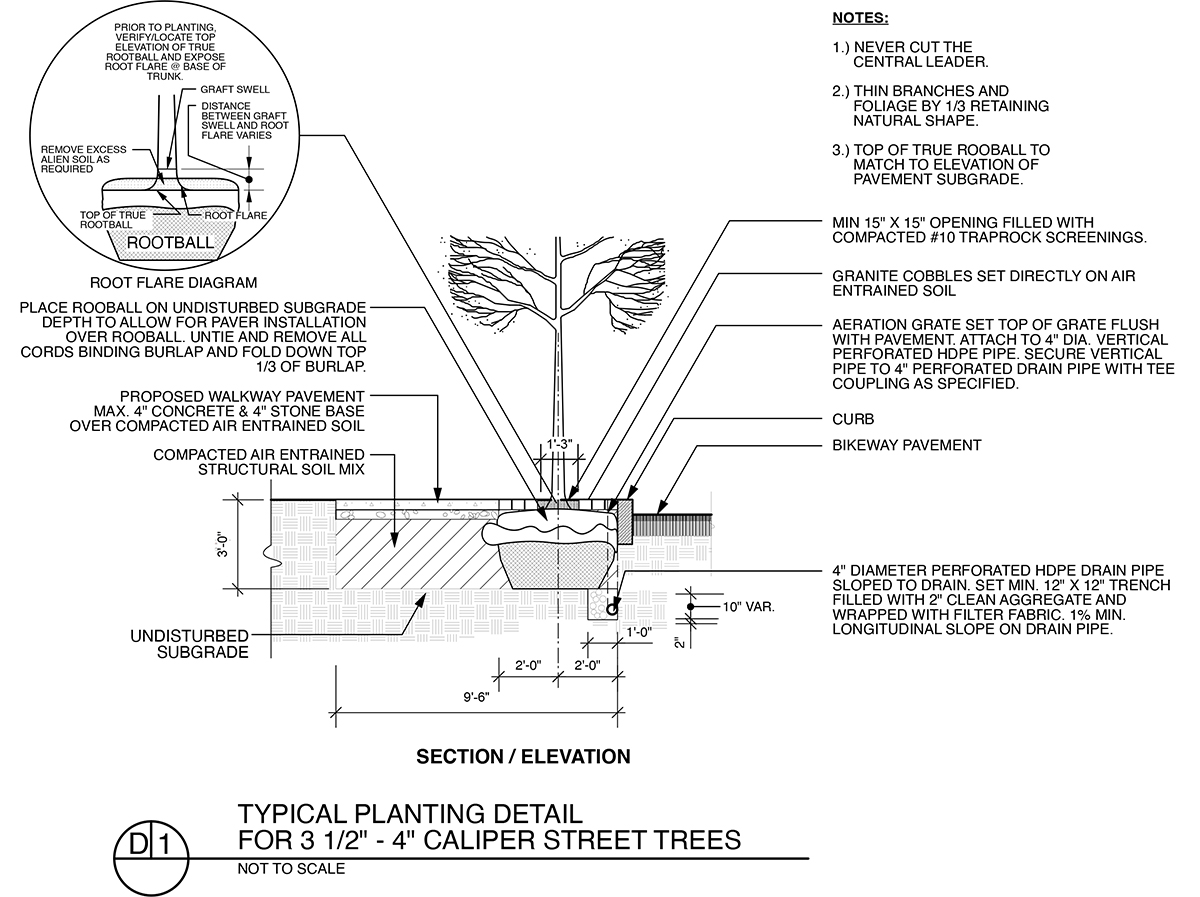 Since its founding in 1990, the Fund for a Better Waterfront (FBW) has recognized the importance of trees as a unifying theme for Hoboken's waterfront park. Trees that mature into a canopy, similar to what exists at the South Waterfront from Newark to Fourth Streets, provide a model for the Sinatra Drive Project as well as a new park at Union Dry Dock. Last spring, FBW hired Arnold Associates to propose a landscape plan for Sinatra Drive. In July, Stephen Lederach of Arnold Associates presented this plan to the City's Sinatra Drive Project team.
The Sinatra Drive Project began a year ago, funded by several state and federal grants plus municipal bonding. From Fourth to Eleventh Streets, the project will repave this waterfront roadway with two-way, narrower traffic lanes and a 12-foot protected bicycle pathway. The City's recent acquisition of the Union Dry Dock property has added a 700-foot long, 25-foot wide strip to the Sinatra Drive Project, providing room for additional trees as well as on-street parking.
On the Arnold Associates website, it states, "An obstacle to making cities more sustainable with shade trees is inappropriate planting details resulting in short-lived trees in urban conditions. The average length of survival of a new street tree in New York City is seven years." For the Sinatra Drive landscape plan to be successful, Mr. Lederach has stressed two key elements: proper soil volumes to support each tree and the use of a specially formulated structural soil mix.
Soil Volumes
Canopy trees each require 1,000 cubic feet of soil volume and understory trees require 750 cubic feet in order to live long, healthy lives. These same standards are stipulated by the Hoboken Shade Tree Commission. Although the engineering firm working on the Sinatra Drive Project acknowledged these requirements, Arnold Associates reviewed the 90 percent landscape plan and calculated the actual volumes to be substantially less. FBW has communicated this finding in recent memos and in a meeting with the Sinatra Drive Team.
Air-Entrained Structural Soil
Over 30 years ago, Arnold Associates developed a planting method, utilizing a structural soil mix, termed "air-entrained soil," that results in healthy, long-lived urban trees. Stephen Lederach and Henry Arnold (now retired) have successfully employed this soil mix in over a hundred national and international projects, including the Hoboken South Waterfront, Metrotech Center in Brooklyn and the Korean War Veterans Memorial in Washington, D.C.
The leaves of trees absorb carbon dioxide during photosynthesis. The tree roots, on the other hand, need oxygen. When soils become compacted, roots are deprived of air and water, often forcing the roots to grow upward, buckling pavements and compromising the health and longevity of the tree. Air-entrained soil solves this problem.
Air-entrained soil is composed of 30 percent topsoil, peat moss and other organics plus fertilizer, and 70 percent expanded slate or shale. By heating the slate or shale to the proper temperature, it becomes porous, like pumice. Once this soil mix is properly compacted, no further compaction can occur, and it allows for the free circulation of air and water. Permeable surfaces above the air-entrained soil are required for this to work properly.
For Pier A Park in Hoboken, the depth of this structural soil varies from 18 inches under the lawn to four feet under the trees. Unlike the soil mixes devised  others, including Cornell University's Urban Horticulture Institute, the air-entrained soil formula developed by Arnold Associates is not patented and was freely shared with the City of Hoboken for the Sinatra Drive Project.
Tree Species
The nearly completed landscape plan for the Sinatra Drive Project contains 164 trees. Arnold Associates recommended changes to some of the species to provide for a more expansive canopy and to switch to different varieties that are better suited to this region. The Hoboken Shade Tree Commission has the final word on the tree selections as well as the planting techniques.
Arnold Associates
Henry Arnold moved to Princeton, New Jersey and started Arnold Associates in 1971. He is the author of Trees in Urban Design which won the American Publishers Award for best book in architecture and urban planning in 1980. Stephen Lederach joined the firm in 1988 and later became partners with Mr. Arnold. In the 1990s, Mr. Lederach managed the Hoboken South Waterfront landscape project that received three Honor Awards, one from the American Society of Landscape Architects (ASLA), another from the NJ Chapter of ASLA and a third from the Waterfront Center.