Opportunities for a living shoreline, use of the piers and the completion of the Hudson River Waterfront Walkway could be postponed until 2030 or beyond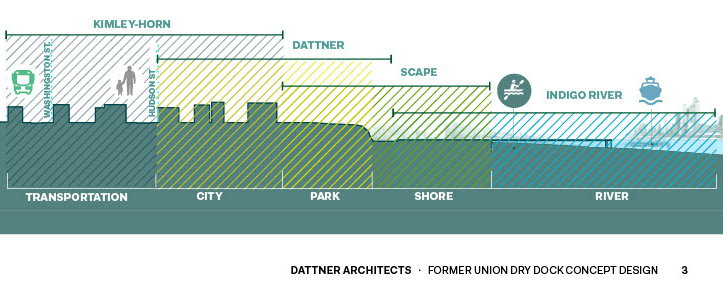 FBW | February 22, 2023
In its submission to the City of Hoboken, the New York City-based firm, Dattner Architects, proposed for the Union Dry Dock site a "range of ideas . . . from infrastructural needs such as parking and multi-modal safety; to built architectural needs ranging from restrooms, snack stands and pavilions to a new anchor restaurant, museum, or institute; to programmed recreational and ecological study areas; to the potential for berthing visiting floating exhibitions and ships."
The City awarded a $1.17 million contract to Dattner, approved at the February 15 Hoboken City Council meeting. Dattner offered to provide architecture, urban planning, engagement and project management and assembled a team that included SCAPE for landscape design, Indigo River for marine engineering, and Kimley-Horn for civil and transportation engineering. Dattner won out over 16 other firms, including a number of landscape architects, that submitted proposals in response to the City's December 2022 RFP (Request for Proposals).
Dattner's wide-ranging ideas for a mere 3.15 acres of land, fortunately, were scaled back somewhat as the City requested the removal of significant architectural design such as a museum or restaurant from the scope of work. In mid-January, the Fund for a Better Waterfront (FBW) communicated its concerns to the City about the RFP's suggestion for revenue-generating uses that could privatize portions of the park and the many and various ideas that could lead to a park space that is over-programmed.
There is a long list of building projects featured on Dattner's website but just three park projects: the Children's Adventure Garden in Dallas, Texas (2013), two segments of Hudson River Park in New York City (2007) and Riverbank State Park also in New York City (1993). SCAPE, the landscape architecture firm that is part of Dattner's team, however, has completed a long list of park projects. SCAPE gained much recognition for its Rebuild by Design Living Breakwaters in Staten Island, New York. SCAPE was also part of the Hoboken/Hudson River Rebuild by Design team.
Citing SCAPE's experience, Dattner exclaimed that Union Dry Dock was "an opportunity to explore new ways to engage and interact with the water and potentially new types of shorelines—get-downs, artificial beaches, tidal shelves, living shorelines, eco-revetments, eco-piers, and others."
Hoboken Mayor Ravi Bhalla and Governor Phil Murphy made a dramatic announcement in June of 2021 that a settlement had been reached. The City of Hoboken would be allowed to acquire the Union Dry Dock site from NY Waterway for the purpose of completing one of the final links in Hoboken's waterfront park at this former dry dock, an eight-acre site mostly over water, with three large piers and about 700 feet of Hudson River shoreline. After an extended delay, on November 28, 2022, the City obtained the deed for this property after exercising its power of eminent domain.
At the February 15 City Council meeting, a lease agreement was approved between the City and NY Waterway that would give the ferry company control of 68 percent of the Union Dry Dock site for up to five years. Thus, the opportunities for a living shoreline, any use of the piers and the completion of Hoboken's final segment of the Hudson River Waterfront Walkway could be postponed until 2030 or beyond.
Earlier this year, FBW was promised a seat at the table as the City undertook the process of selecting a finalist to design the park. Unfortunately, this promise went unfulfilled. FBW first proposed the vision for a continuous, public park along Hoboken's waterfront in 1990 which today, thanks to FBW's continued advocacy, has been mostly completed. In 2017, FBW teamed up with Mayor Bhalla, the City and people throughout the area to successfully fight NY Waterway's attempt to establish a permanent ferry refueling and maintenance facility at Union Dry Dock.