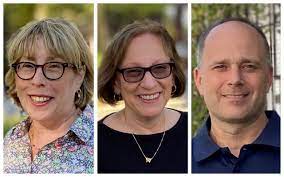 Top row are Sheila Brennan, Cheryl Fallick and Paul Presinzano of the Independently Together slate and Jim Doyle, Emily Jabbour and Joe Quintero of the Team Bhalla slate. Bottome row are Ian Rintel, Manuel Rivera, Patricia Waiters and Cindy Wiegand.
FBW | October 21, 2021
The Hoboken City Council At-Large Candidates' Forums sponsored by the Quality Coalition (QLC) will be held this Friday, Oct. 22. Ten candidates are vying for the three open at-large City Council seats. This year's forum will be hosted as a pair of live-streamed events, with the field randomly divided into two separate groups, the first starting at 5:30 PM and the other at 8:00 PM.
The public will be able to participate live via YouTube, Facebook and Twitter, and to submit questions in advance and during the beginning of each live session. The forums will be recorded for rebroadcast after the event. Links to view the forum and additional information is on the QLC website.
Here are some pertinent questions we would like to pose:
The Waterfront
The City of Hoboken is expected to acquire the Union Dry Dock property in the coming months for use as a public park. What role did you play in the battle with NY Waterway and NJ Transit over the past 5 years? What is your vision for this public space?
During the Zimmer administration, consultants were hired to complete a plan for Sinatra Drive from 4th to 11th Streets that would include a protected bike pathway, tree-lined pedestrian walkways, additional public open space, etc. The project was never completed and has been stalled for 6 years. What is your position on this?
Flooding
Ida dumped 150 million gallons of water on Hoboken in an 8-hour period overwhelming the city's flood mitigation strategies implemented since Sandy. The resulting flooding took two days to recede from Hoboken's low lying areas. What do you propose to remedy this problem?