The next public meeting will occur in June, but everyone is encouraged to complete the City's survey before April 18 (link on homepage)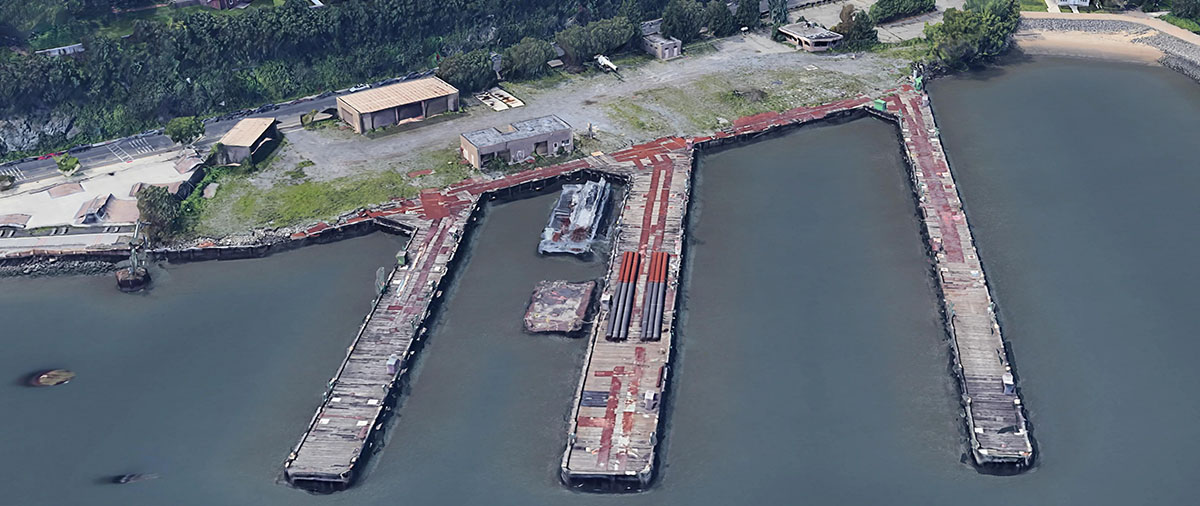 It has been a long time in coming and may take many more years to realize fully, but eager Hoboken residents showed up on April 4 at the Hoboken High School to participate in the first planning session to design a park for the Union Dry Dock site. The City acquired the property from NY Waterway last November after many years of conflict followed by several more years of difficult negotiations.
The professional team — architects from Dattner Architects, landscape architects from Scape Studio, civil engineers from Kimley-Horn and marine engineers from Indigo River — engaged with the public and invited them to express their preferences on a series of boards and a massive map of Hoboken and its waterfront. Mayor Bhalla provided introductory remarks followed by a principal of Dattner Architects and another from Scape Studio.
The battle over how Hoboken's waterfront would be developed began three decades earlier. After a 1990 referendum victory, the Fund for a Better Waterfront (FBW) was created to establish a Plan for the Hoboken Waterfront. FBW hired architect/planner Craig Whitaker to lead this effort. The resulting plan called for extending the traditional Hoboken street grid down to the waterfront and establishing a continuous, public park for the entire length of Hoboken's riverfront. Today, most of the park has been built and the current Sinatra Drive project will help to tie together various portions of the park from Fourth to Eleventh Streets with a protected bicycle pathway and rows of street trees.
The Union Dry Dock piece will complete over 700 feet of linear park from Eighth to Tenth Streets, one of the final missing links in Hoboken's waterfront park. Union Dry Dock also opens up a unique opportunity to connect directly to the water, extending the natural sand beach at Maxwell Place Park to the south and creating a natural, living shoreline further along the water's edge. The piers and platforms, extending more than an acre over the Hudson River, present perhaps the most difficult and costly challenge of the project.
The City is calling it Maritime Park in response to appeals from Jim Perry, who grew up in Hoboken, to recognize the maritime industries that dominated Hoboken's waterfront for more than a century, and were the major source of employment for local residents during that era. One idea is to create a maritime museum on a barge that could be docked at one of the piers.
Although park design is typically done by landscape architecture firms, the City awarded a $1.17 million contract to Dattner Architects in February to provide architecture, planning and project management. But at the April 4 meeting, landscape architects from Scape Studio were playing a prominent role in this process.
Dattner's winning proposal originally contained wide-ranging ideas for a mere 3 acres of land. Fortunately, the City scaled back Dattner's proposal removing significant architectural work such as a museum or restaurant from the scope of work. FBW also objected to provisions in the City's RFP (Request for Proposals) for revenue-generating uses that could have privatized portions of the park.
SCAPE Studio has completed a long list of park projects including two recent waterfront projects, China Basin Park in San Francisco, California and Tom Lee Park in Memphis, Tennessee. SCAPE has garnered numerous design awards and gained considerable recognition for its Rebuild by Design Living Breakwaters in Staten Island, New York. SCAPE was also part of the Hoboken/Hudson River Rebuild by Design team.
The lease agreement approved in February between the City and NY Waterway gave the ferry company control of 68 percent of the Union Dry Dock site for up to five years. Thus, the opportunities for a living shoreline, any use of the piers and the completion of Hoboken's final segment of the Hudson River Waterfront Walkway will be postponed for the foreseeable future.
FBW has been working with its legal team and land conservation specialist to devise ways to ensure that the site is ultimately preserved in perpetuity as public open space. The park design will help. The fact that the municipal Open Space Trust Fund was used to acquire the site also adds another layer of protection.