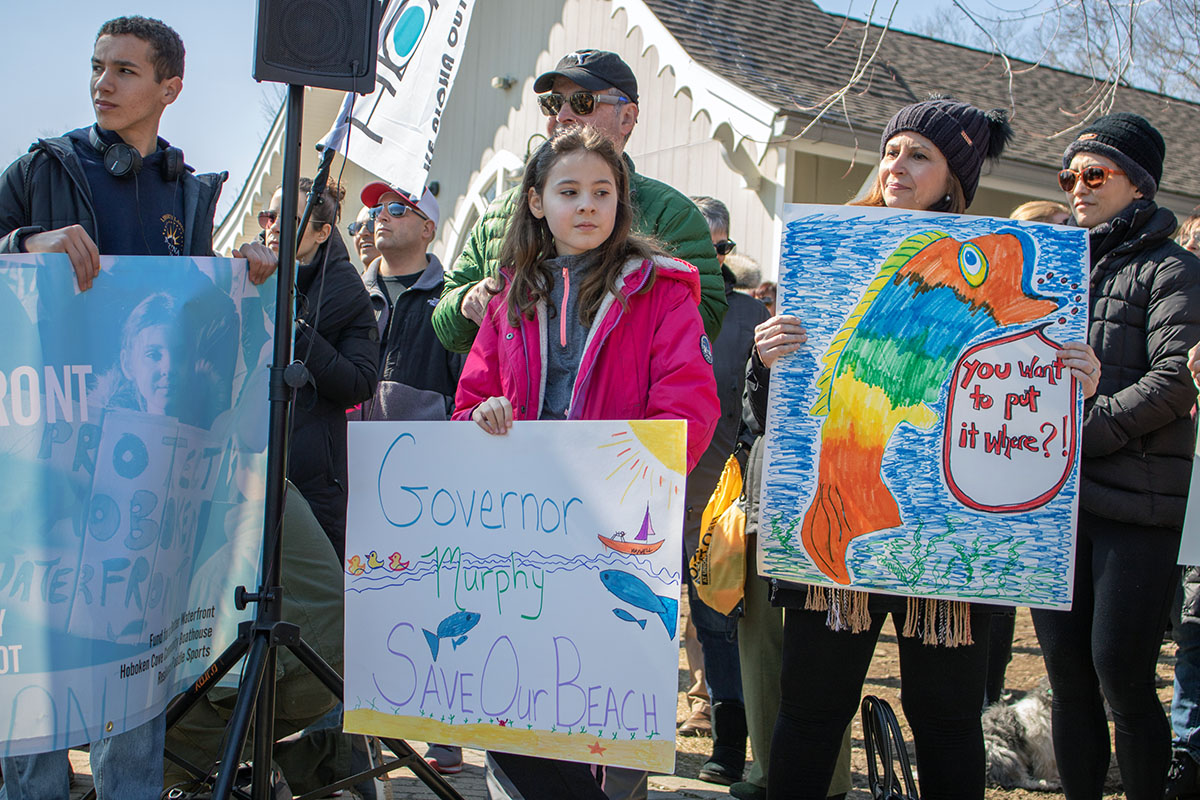 March on March 9 to Save Your Waterfront attended by nearly 500 people sponsored by FBW, Hoboken Cove Community Boathouse & Resiliency Paddle Sports. Photo Credit: Peregrine Lane-Thurlow.
But look! here come more crowds, pacing straight for the water, and seemingly bound for a dive. Strange! Nothing will content them but the extremest limit of the land. –
Herman Melville
Moby Dick
FBW | March 27, 2019
Since taking office in January 2018, Governor Phil Murphy has come under pressure from NY Waterway and its lobbyists to locate a ferry maintenance/refueling facility at the former Union Dry Dock property at Hoboken's waterfront. This move has been overwhelmingly opposed by Hoboken residents, local organizations and Hudson County elected officials. On March 9, nearly 500 people marched and rallied to preserve this site as public open space.
In 2009, NJ Transit conducted an exhaustive study entitled Ferry Berthing and Maintenance Facility — Alternate Site Analysis that took into account a number of factors to rank nine sites along New Jersey's Hudson River coastline for a ferry home port. Five sites were judged more suitable than the Union Dry Dock property.
In November 2018, the City of Hoboken released another study, this one conducted by Boswell Engineering, that identified three locations better suited than Union Dry Dock. Both studies ranked first, by a considerable margin, the Hoboken Terminal, formerly known as the Erie Lackawanna Station. This 80-acre property, one of New Jersey's premier multi-modal transportation hubs, is owned by NJ Transit and designated for transportation and maintenance purposes.
So this is the $64 question: "Why doesn't Governor Murphy select one these other sites that have been determined to be more viable?" The following are several of the advantages of the Hoboken Terminal site:
Costs: 

Locating at the Hoboken Terminal would save NJ Transit some $12 million required for the acquisition of the Union Dry Dock site and another $1 million in dredging costs.

Dredging: 

At the Hoboken Terminal no dredging would be required unlike the shallow waters at Union Dry Dock.

Berthing capacity

:  The 2009 study concludes that the berthing capacity at the Hoboken Terminal would accommodate up to 18 ferries plus what is provided at the Ferry Terminal while Union Dry Dock would be limited to four.

Permitting

:  By the end of 2009, the Army Corps of Engineers and the New Jersey Department of Environmental Protection (NJDEP) granted permits to NJ Transit to locate this ferry facility at the Hoboken Terminal.

Plans

:  To obtain these 2009 permits, NJ Transit developed detailed plans for how the facility would be constructed and operate.
The four other sites ranked as preferable in the 2009 study were two in Weehawken: Port Imperial Ferry Terminal and the Port Imperial Marina; the Greenville Pier in Jersey City; and the Bayonne Peninsula. The Boswell Engineering study ranked the Bayonne Peninsula and Binghamton Ferry site in Edgewater as the number two and three most feasible respectively. The 850 linear feet at the Edgewater site is zoned for commercial port use.
Given the fact that various commercial and industrial sites are available, more than one site could be used for the different operations. Refueling, for instance, could be decoupled from the berthing and maintenance operation. So if refueling at the Hoboken Terminal is a problem, that function could be located at one or two other sites.
Hoboken Cove is a destination for all of Hudson County, launching thousands of kayakers and paddleboarders into the Hudson River each year. Fishermen use the public fishing pier just south of Union Dry Dock on a regular basis. The skateboard park, also abutting the dry dock, has been one of the few available in the region. The children's playground at Maxwell Place Park, dog run, and running/cycling lanes underscore the fact that Hoboken's central waterfront is a residential and recreational zone, not an industrial zone, regardless of NY Waterway's views of the area.
If there was any question about the opposition to locating a ferry maintenance/refueling facility at Union Dry Dock, the March on March 9 dispelled that question. The Hoboken Cove Community Boathouse, Resilience Paddle Sports and the Fund for a Better Waterfront (FBW) sponsored this event and were joined by a number of other organizations including the Hudson River Fishermen Association, Bike Hoboken, the Ke Aloha Outrigger Canoe Club and the Climate Mobilization. Hoboken Mayor Ravi Bhalla led the march joined by Assemblywoman Annette Chaparro, Freeholder Anthony Romano, City Council President Jen Giattino and Hoboken City Council members Tiffanie Fisher, Jim Doyle and Michael Defusco.
On December 13, 2018, additional political opposition was voiced by State Senator Brian Stack, State Senator Nicholas Sacco, Hudson County Executive Tom DeGise and Jersey City Mayor Steven Fulop. They jointly submitted a letter to Gov. Murphy stating, "We write to you to express our emphatic support for Mayor Ravi Bhalla and the City of Hoboken's efforts to prevent a heavy refueling diesel depot at the Union Dry Dock property."
Addendum
Recent history: In November 2017, NY Waterway purchased the Union Dry Dock site after NJ Transit agreed to acquire the property and lease it back to them. Yet neither NJ Transit nor NY Waterway appraised public officials in Hoboken of this arrangement prior to the November acquisition. The City of Hoboken fought back packing a NJ Transit Board meeting in January 2018 on the final day of Governor Christie's term. By March of 2018, the City of Hoboken passed an ordinance to acquire the site through eminent domain. Again, the following month, NJ Transit threatened to pass a resolution to acquire the property. This resolution was withdrawn after an agreement had been reached between Hoboken Mayor Ravi Bhalla and Governor Murphy. The City would rescind the eminent domain ordinance and the Governor would undertake a new study to site the ferry facility.
Despite this agreement, for the past year, the governor's office has not undertaken any new study. Yet, in May 2018, FBW obtained through an OPRA request, the 2009 NJ Transit study. Neither NJ Transit nor NY Waterway had previously divulged its existence. 
NY Waterway's rumored demise: One of NY Waterway's oft-repeated talking points is that the Union Dry Dock site is the only viable location for it's maintenance facility. NY Waterway has attacked Hoboken officials, accusing them of threatening to bring about the demise of the ferry service between New Jersey and Manhattan by denying them use of the Union Dry Dock property. The two studies completed to date, however, expose the bogus nature of these arguments.
Public Investment in ferry system:  NJ Transit and the Port Authority have invested more than $200 million in ferry facilities currently used by NY Waterway in Hoboken, Weehawken and Manhattan.