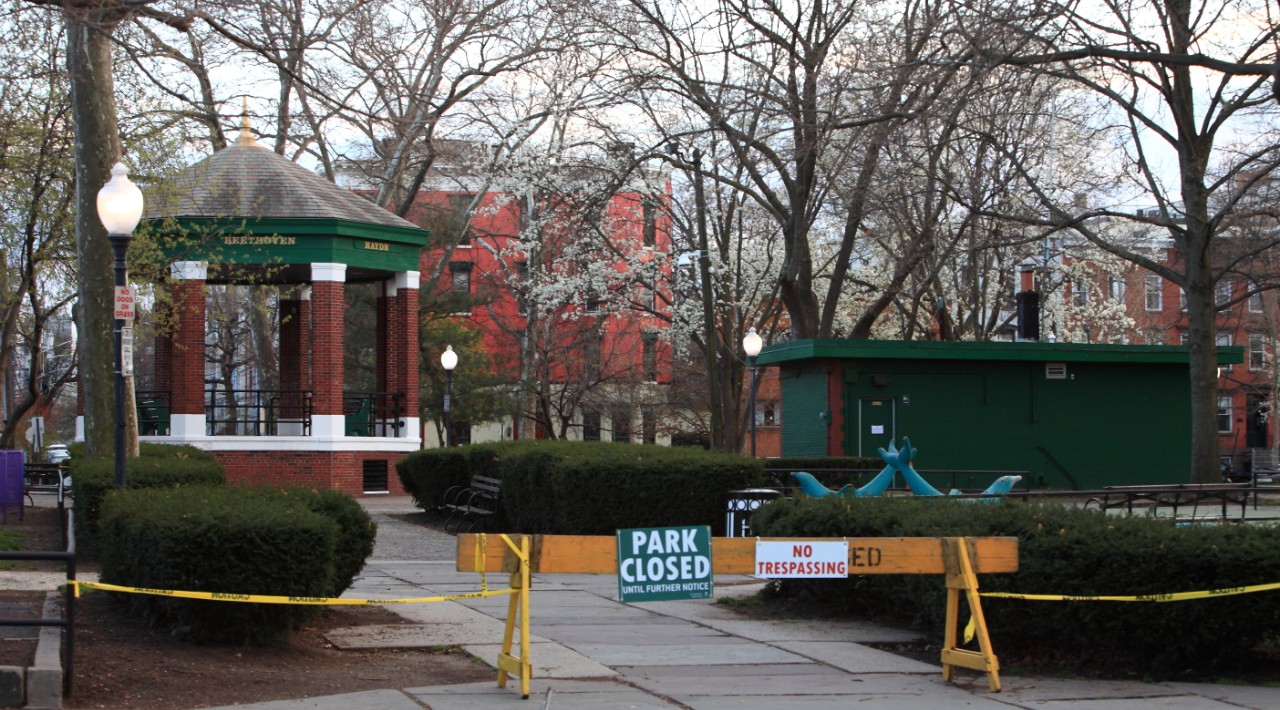 Church Square Park in Hoboken, New Jersey. Photo by Paul Schoenberger.
But look! here come more crowds, pacing straight for the water, and seemingly bound for a dive. Strange! Nothing will content them but the extremest limit of the land; loitering under the shady lee of yonder warehouses will not suffice. No. They must get just as nigh the water as they possibly can without falling in. And there they stand—miles of them—leagues. Inlanders all, they come from lanes and alleys, streets and avenues,— north, east, south, and west. Yet here they all unite. Tell me, does the magnetic virtue of the needles of the compasses of all those ships attract them thither? 
–  Herman Melville,
Moby-Dick
Subscribe to City of Hoboken Nixle Alerts to get daily updates on the coronavirus
FBW | April 8 2020
As of late, Hoboken's waterfront park has become too popular for its own good. People, mostly confined to their homes for the past several weeks, have sought fresh air and a chance to stretch their legs. Like the "inlanders" in Herman Melville's Moby-Dick, they have gravitated to the riverfront. Being at the Hudson River with its fresh harbor-breezes, vast open spaces and usual spring sunshine has brought sanity and solace to our community as the coronavirus threat loomed. 
But it has been these very crowds at Hoboken's waterfront and the failure of people to adhere to social distancing that caused Mayor Bhalla at the end of March to close all of Hoboken's parks. In response, the Fund for a Better Waterfront, Bike Hoboken and several other groups put its petition on hold that asked the City of Hoboken to close Sinatra Drive to traffic to allow for more social distancing along the waterfront. At the Union Dry Dock property the sidewalk and bike path narrow to just a few feet, making six-foot social distancing problematic. 
Each day, the statistics have become ever more alarming as the coronavirus strikes closer to home. On April 4, news broke that Weehawken Finance Director and Board of Education President Richard Barsa died from complications due to the virus.  Two days later, another public figure, Jersey City councilman Michael Yun succumbed to the illness. 
New Jersey Governor Murphy announced that the coronavirus was expected to peak in the next two weeks. Monday night, April 6, Mayor Bhalla in his daily Nixle Alert stated,  "For the next two weeks, I'm directly asking each and every resident to curtail outdoor activities to the greatest extent possible. That means if you're normally jogging, biking, doing yoga, lifting weights, going for long walks, or more outside, I ask you to exercise inside for the next two weeks. And if you're going out for fresh air for 5-10 minutes, I'm also making the direct ask to please do so away from the waterfront." 
On Tuesday, April 7, Gov. Murphy ordered the closing of all state and county parks as coronavirus deaths hit the highest single-day increase in New Jersey. Public spaces are being closed elsewhere across the country. Chicago closed its Lakefront Trail. New Yorkers can no longer walk the High Line. Public pathways in San Francisco are now closed.
For the past 30 years, the Fund for a Better Waterfront has been an advocate for parks and open space, most especially along our waterfront. But for now, we must heed the warnings of our public officials and health experts. All our lives are at stake. 
So how long will our parks stay closed? When will it be safe to enjoy our beloved waterfront park? Clearly, isolating at home over the long term becomes increasingly difficult and unsustainable.  
Health experts say the risk of infection is lower outside than inside. Dr. Kevin Winthrop, a professor of Infectious Diseases in Epidemiology and Public Health at Oregon Health & Science University in Portland explains, "Usually there's a lot more social distancing outside. And environmental factors like wind and UV [radiation, which degrades most viruses] make it less likely you're going to come in contact with viral particles." (Source: Medical Daily, April 2, 2020.)
Walking, running and cycling can all be done while maintaining a 6-foot social distance, but this is not always the case as crowding can occur, most often in late afternoons. In addition, the heavy breathing of runners likely requires more than 6 feet. 
After New York City's mayor ended its street-closure program, on April 6, Streetsblog NYC published an Op-Ed by the noted urbanist Brent Toderian that stated, "Gov. Cuomo should be encouraged to go further in opening public spaces in New York, hopefully working with Mayor de Blasio, to close more streets to car traffic for the benefit of pedestrians and cyclists." 
There are many health benefits to exercising outside but for now, in Hoboken, we will err on the side of caution, isolating at home as our state and local officials have advised. We will look forward to the day we can safely return to parks and the waterfront that has become such an integral part of our community.