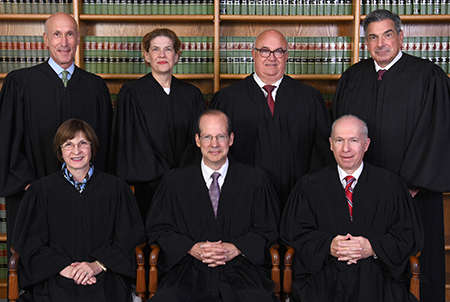 Standing from left to right: Justice Lee A. Solomon, Justice Anne M. Patterson, Justice Faustino J. Fernandez-Vina and Justice Walter F. Timpone. Sitting from left to right: Justice Jaynee LaVecchia, Chief Justice Stuart Rabner and Justice Barry T. Albin.
Today, the issue before the New Jersey Supreme Court focused on a municipality's right to enforce local ordinances to protect the public's health and safety adopted after a lower court, in an extraordinary move, granted automatic approval for two high-rise towers to be built on a Hoboken pier. Attorneys representing the City of Hoboken, the Fund for a Better Waterfront (FBW) and the New Jersey League of Municipalities argued that the amended flood and corresponding zoning ordinances were enforceable against this project because building over the Hudson River put people in harm's way and thus required the municipality to implement the necessary safeguards.
The Supreme Court judges greeted these arguments with skepticism, peppering the lawyers with questions about the intent of the state's Municipal Land Use Law with respect to vested rights provided when final site approval is granted, and what is the appropriate remedy for an approved development project such as this if the City were able to enforce its ordinances.
Hoboken's ordinances, adopted after Superstorm Sandy wreaked havoc upon Hoboken and its Hudson River coastline, prohibit building residential structures on piers beyond the mean high water line. Prior to the ordinances being adopted, the Shipyard Associates proposed to build the Monarch Towers, 78 residential units on a Hoboken pier. However, originally, this parcel was designated as open space as part of Shipyard's now completed 1160-unit buildings, approved by the Hoboken Planning Board in 1997.
In 2014, Superior Court Judge Nestle Rodriguez invoked the rarely used "automatic approval" for the project claiming that the Hoboken Planning Board was out of time to make a ruling on the application, a claim that was disputed by the Planning Board attorney. As a result, Shipyard Associates was granted site plan approval by the court without having a full hearing with expert witnesses before the Planning Board. At this time, the court also refused to apply the newly enacted anti-flood ordinances despite the City's assertion that they fit into the "health and safety" exception to automatic or "default" approval and the Planning Board argued that the "time of decision" rule should govern the application, because safety ordinances were now at issue.
For the past eight years, the City of Hoboken, along with FBW and the Hudson Tea Building, has attempted to preserve this pier for open space as originally promised by Shipyard Associates in a developer agreement. Various lawsuits have followed a tortuous path through the court system resulting in a series of rulings adverse to the City. Shipyard Associates has prevailed despite court precedents to the contrary and the usual norm of New Jersey Courts deferring to municipal land use boards. In this matter, the courts have shown an open hostility to the Hoboken Planning Board and the City's efforts to hold Shipyard to its obligations under the developer agreement, and subsequently to comply with its flood prevention ordinances adopted in response to Superstorm Sandy.
In January 2018, when Mayor Ravi Bhalla took office, negotiations to settle this protracted legal battle resumed, after falling apart during the administration of former Mayor Dawn Zimmer. A tentative settlement was reached this past year, with the City and Shipyard agreeing to swap development rights at the Monarch parcel for the municipal garage site on Observer Highway. This deal would ensure that the Monarch pier be preserved as public open space in perpetuity. It is not clear what impact a Supreme Court ruling in favor of Shipyard would have on the settlement talks.
In October 2012, Superstorm Sandy generated a surge, pushing the waters of the Hudson River inland and flooding 75 percent of Hoboken's land area. The surging waters battered Hoboken's coastline washing away the park on Pier C and causing millions of dollars of damage to the Hoboken Terminal much of which is built on pilings over the Hudson River. Riva Pointe, a residential development on a pier to the north in Weehawken, was surrounded by water, requiring emergency response workers to rescue a heart attack victim via pontoon.
Shortly after the storm hit, the City of Hoboken sprang into action to protect its citizenry from future flooding. The City of Hoboken amended its flood ordinance and corresponding zoning based on recommendations from ecological and engineering consultant, Princeton Hydro, and model guidelines recommended by the New Jersey Department of Environmental Protection (DEP) and Federal Emergency Management Agency (FEMA). FEMA re-designated Hoboken's entire mile-and-a-half coastline to be in the Coastal High Hazard or "V" zone. The consensus among these agencies and the consulting firm was that residential developments on piers, over bodies of water, put people in harm's way. Additionally, the state changed its regulations to prohibit residential development on piers in V zones, but DEP refused to reconsider its approval of a water permit that had been issued prior to such change in regulations.
Shipyard Associates attorney Kevin Coakley of Connell Foley, after presenting his oral arguments, faced only gentle questioning from the judges and was followed by Robert Washburn representing the New Jersey Builders Association. Making oral arguments for the City of Hoboken was Christopher Miller of Maraziti Falcon. Renee Steinhagen of NJ Appleseed Public Interest Law Center represented FBW and Frank Marshall presented arguments on behalf of the New Jersey League of Municipalities.
On December 30, 1992, developer Joseph Barry acquired the 10 acres of land at Hoboken's northeast waterfront that became the Shipyard Project for $1.3 million. In the 1970s, Mr. Barry got his start in Hoboken developing federally-subsidized Section 8 housing that also served as a base for building his far-reaching political influence. In the 1990s, he obtained millions in federal grants and loans to subsidize his lucrative, private Shipyard development. In 2001, Joseph Barry pleaded guilty to bribing the Hudson County Executive to secure state and federal funding for the Shipyard project. He was sentenced to 25 months in jail and handed over the reigns of Applied Companies/Shipyard Associates to his sons David and Michael Barry who today control those companies.