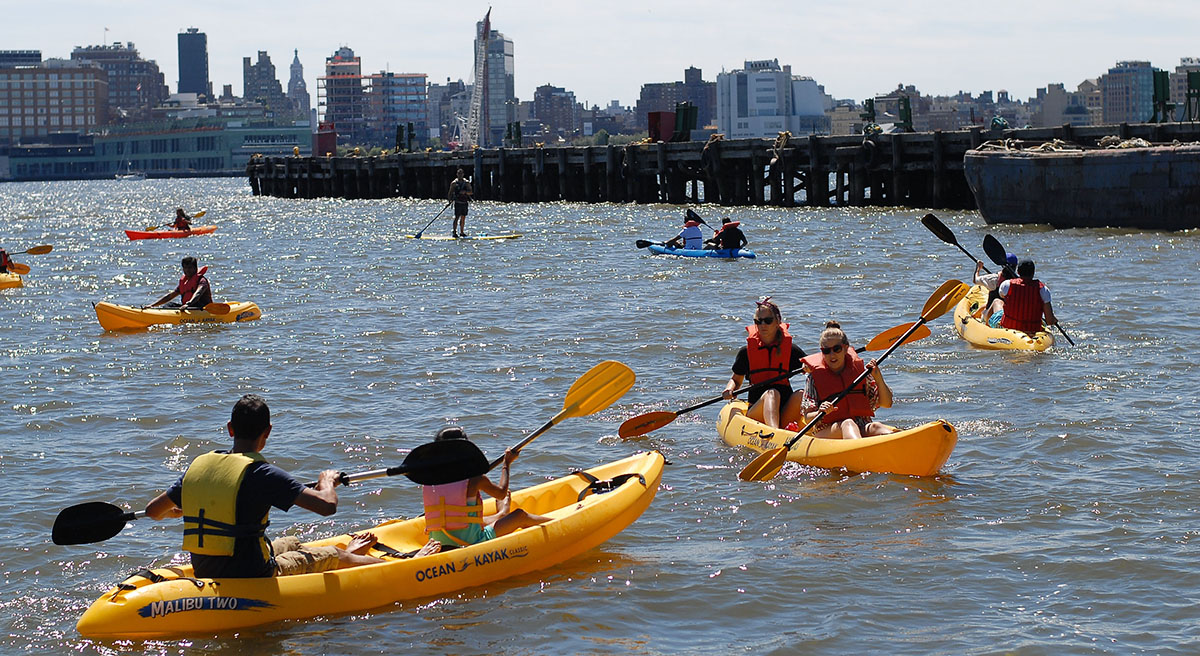 Free kayaking adjacent to Union Dry Dock sponsored by the Hoboken Cove Community Boathouse, an all volunteer non-profit organization.
1) Who owns Union Dry Dock? In 2017, without consulting with Hoboken's elected officials or residents, NJ Transit (NJT) and NY Waterway (NYWW) hatched plans to acquire Union Dry Dock for a ferry maintenance and refueling facility. In November 2017, NYWW stunned Hoboken with the news that it had purchased this site for $11.5 million. NJT had agreed to then buy the dry dock and lease it back to NYWW. In January 2018, NJT placed the acquisition on its Board agenda but intense protests by Hoboken residents and elected officials, and support from Gov.-elect Murphy, caused NJT to remove the item from its agenda.
2) What is Gov. Murphy's position on this issue? In the first quarter of 2018, NYWW and its lobbyists applied intense pressure on the governor's office and NJT to purchase the Union Dry Dock property. By April, Gov. Murphy reversed his position and supported the acquisition by NJ Transit. Hoboken and its elected officials again protested vociferously. In response, Gov. Phil Murphy promised a thorough study for siting the ferry facility. Since then, Gov. Murphy has made no public statement about this issue, despite persistent opposition to NYWW/NJ Transit's plans to locate the depot in the middle of a much beloved waterfront park.
3) NY Waterway says this is the only place available to locate its refueling, repair & storage facility. Is this true? No. In 2009, NJT completed a rigorous study entitled Ferry Berthing and Maintenance Facility – Alternative Site Analysis identifying five sites as more suitable than Union Dry Dock including two in Weehawken, one in Jersey City and another in Bayonne. Last November, the City of Hoboken released a study that came to a similar conclusion. Both studies identify the Hoboken Terminal as the optimal choice. NJ Transit owns the 40-acre Hoboken Terminal site, a major multi-modal transportation hub.
4) What is so special about Hoboken's waterfront? In 1990, the Fund for a Better Waterfront proposed a contiguous, public waterfront park for Hoboken's mile and a half of riverfront. Today, after tens of millions of dollars in public and private investment, the waterfront park has been largely built with new residential and commercial development on upland blocks. Hoboken's riverfront, once lined with maritime industries, has been transformed. Making the Union Dry Dock property public open space would complete one of the final links along Hoboken's waterfront park.
5) What is so special about the Union Dry Dock site? Abutting the Union Dry Dock property is the only natural sand beach along the Hudson River south of George Washington Bridge. It is an ideal spot for kayakers and paddle boarders. The Hoboken Cove Community Boathouse puts 6,000 kayakers throughout the region in the river here each year. The Hoboken Cove is also an ecologically sensitive, intertidal zone where horseshoe crabs lay their eggs, diamondback terrapins can be found and scores of migratory fish have been identified. Directly to the south is a very popular skateboard park, one of the few in the region.
6) NY Waterway claims that the City of Hoboken is trying to bring an end to its ferry service. Is this accurate? No. No one is proposing to end the ferry service that provides a vital transportation link between New Jersey and New York City. The City of Hoboken in fact supports locating the maintenance facility at the Hoboken Terminal where it would not conflict with the residential and recreational uses at the Hoboken waterfront. As explained above, there are multiple options for siting maintenance and refueling that allow for uninterrupted ferry service.
7) Isn't a ferry maintenance facility a continuation of what Union Dry Dock & Repair Co. did? No. Union Dry Dock's two slips were used for barge repair, not refueling, and generated minimal traffic over the Hudson River. A small crew of employees worked 8-hour shifts, 5 days a week. By contrast, NYWW plans to operate 18 hours a day, 7 days per week, making an estimated 80 ferry trips daily to and from the depot. The City estimates that ferry crews commuting to work will be making 240 vehicular trips through Hoboken streets to this site.
8) Isn't this ferry depot harmless to the marine life in the river? No. Ferry depots can be very harmful to marine life in the river. NYWW's fleet of 34 ferries will be refueled, repaired, cleaned and pumped empty of sanitary wastewater, leading to inevitable spills. In fact, in January of 2018, NYWW spilled over 300 gallons of diesel fuel, one-third of which flowed into the Hudson River at its Weehawken refueling site. This habitat will be further disturbed by the wakes and turbulence generated by the high speed ferries.
9) Would dredging be required at Union Dry Dock for a ferry depot? Yes. Contrary to the assertions of NYWW, the waters during low tide are too shallow for a ferry maintenance facility. The dredging would cause further threats to the marine life there. The Hoboken Terminal site, in contrast, provides sufficient depths for ferry operations and thus does not require dredging.
10) Why would NJ Transit, a financially-strapped public agency, purchase Union Dry Dock for $12 million when it already owns the preferred Hoboken Terminal site? Good question. Don't have the answer to that one.