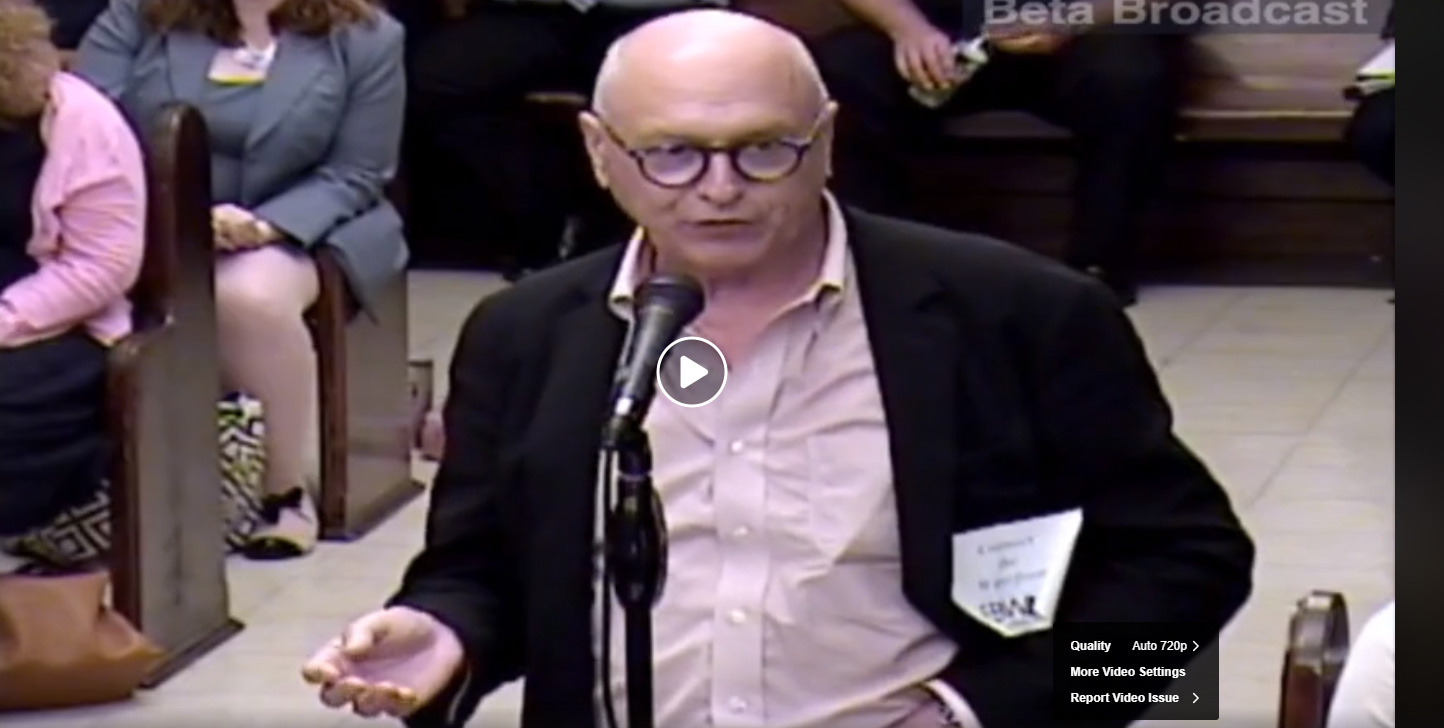 Attorney David White, an FBW Board Member, speaks of false narrative spread by NY Waterway.
The final vote on the ordinance to acquire the dry dock property will be on Wednesday, September 4 at Hoboken City Hall
FBW | August 14, 2019
On August 7, 2019, a standing-room-only crowd urged the Hoboken City Council to complete two missing links in Hoboken's waterfront park at Union Dry Dock and the Monarch pier. For over two hours, the council heard testimony to adopt an ordinance to acquire Union Dry Dock and accept a settlement that could lead to a public park on a pier where the developer had proposed two 11-story towers.
Tina Hahn, who lives just a block from Union Dry Dock, made the point that NY Waterway has known for years that the community and its elected officials vehemently oppose a ferry refueling facility at this site. "I don't think it's been a secret," she said, "for the past 30 plus years we have wanted an open, publicly-accessible waterfront. We owe it to all those people who started this to complete this vision."
A number of speakers, representing groups such as the Hoboken Cove Community Boathouse, Ke Aloha Outrigger Canoe and Resilience Paddle Sports stressed the importance of the Hoboken Cove as a recreational resource and wildlife habitat. This protected area that also includes Union Dry Dock contains the only natural sand beach along the Hudson River south of George Washington Bridge.
Oscar Hernandez of the Community Boathouse stated, "If [NY Waterway] were to go to Union Dry Dock, we could not paddle there anymore." He described an incident where a NY Waterway ferry captain purposefully refused to yield to a group of six kayakers and failed to respond to radio calls and a horn signal despite the kayakers having the right of way. Mr. Hernandez and other speakers refuted claims made by NY Waterway that it would be a "good neighbor."
Noelle Thurlow of Resilience Paddle Sports stated that the Hoboken Cove as well as the Weehawken Cove are "perfect spots for restoration." She talked about the ability of ribbed mussels to clean the water, the turtles that use these coastal areas, and the 200 species of fish that swim in the Hudson River, including endangered species. Any restoration effort, Ms. Thurlow said, would be subverted by a diesel ferry refueling operation nearby.
Recently, NY Waterway has been posting on social media and placing ads in local media claiming that the City of Hoboken is trying to "steal" its property. Attorney David White, who serves on FBW's Board of Directors, addressed this issue before the City Council stating that the City is offering to pay fair market value for the Union Dry Dock property, thus, this does not qualify as a Fifth Amendment "taking." This offer is based on a recent $13.1 million reappraisal of the property. This provides NY Waterway with an additional $1.6 million over what they paid for Union Dry Dock in November of 2017, making it a generous offer.
If NY Waterway refuses this offer, the ordinance then allows the City to exercise eminent domain. Mr. White pointed out that since it is for a public purpose — to use as a public park — it is a legally supported power that municipalities can invoke. The most recent landmark case decided by the U.S. Supreme Court in 2005 is Kelo v. City of New London that allowed this Connecticut town to acquire a private property as part of its economic development plan.
NY Waterway, of course, never intended to be the owner of Union Dry Dock. The plan devised in 2017 was for NJ Transit to acquire the site, thus making it tax-exempt, and lease it back to NY Waterway for refueling and repairing its ferry fleet. Neither NJ Transit nor NY Waterway discussed these plans with elected officials in Hoboken who were stunned by the news that NY Waterway had bought the property in November 2017 in the middle of a local election cycle. FBW had been advocating for its acquisition as part of a plan to complete Hoboken's public waterfront for the past five years. Mayor Bhalla and the community fought back vigorously and were able to derail two attempts by NJ Transit to buy the site in early 2018.
Despite significant advertising by NY Waterway to convince the public of its plan for Union Dry Dock, only three people spoke in support of NY Waterway at the Hoboken City Council meeting, all echoing NY Waterway's talking points. The story that appeared in the Hudson Reporter, where NY Waterway has placed weekly ads, managed to quote all three of these pro-NY Waterway speakers but neither named nor quoted the many speakers who spoke in favor of the eminent domain ordinance.

At the August 7 meeting, the Hoboken City Council approved the acquisition ordinance on first reading as well as the resolution approving the tentative settlement agreement for the Monarch project. The final vote on the ordinance will take place on September 4.
On July 29, New Jersey Superior Court Judge Jeffrey Jablonski dismissed the NY Waterway suit against the City of Hoboken that attempted to skirt municipal approvals for the ferry facility. The judge referred to the ferry operator's claim that without use of Union Dry Dock, a regional transportation crisis would occur, as "unsubstantiated."