Sweet Victory! 25th Anniversary
Friday, July 10, 2015
Noon to 2 p.m.
Pier A Park At the Annette Illing Memorial
1st Street & Sinatra Dr.
Hoboken, New Jersey
The Fund for a Better Waterfront (FBW), the driving force behind Hoboken's award-winning South Waterfront, will serve up free cake to the public and a piece of history for its 25th anniversary on Friday, July 10th from noon to 2:00 pm on Pier A Park. Hoboken's own Carlo's Bakery (the Cake Boss) has donated the cake, a confectionery celebration to kick-off a series of events to commemorate the sweet referendum victory that led to Hoboken's waterfront park.
Remembering Hoboken's Victory
On July 10, 1990, Hoboken voters rejected the ill-conceived Port Authority of New York & New Jersey/City of Hoboken agreement to build a massive 3.2 million square foot development at the South Waterfront's. Half of the project was to be built on Piers A & C that included a daunting 33-story office tower on Pier A. After a second referendum victory in 1992, the City accepted FBW's proposal for a waterfront park from Newark to 4th Streets. As a result, Pier A, Pier C and the waterfront promenade were dedicated as a public park, uninterrupted by private development, that we all enjoy today.
Connect the Waterfront
Currently FBW is seeking to extend the outstanding qualities of Hoboken's South Waterfront – with its award winning park, beautiful canopy of trees and lively, pedestrian/bicycle-friendly street – north of 4th Street. If successful, FBW continuous public park, first proposed 25 years ago, could be completed, adding up to 7 acres of public open space along the Hudson River.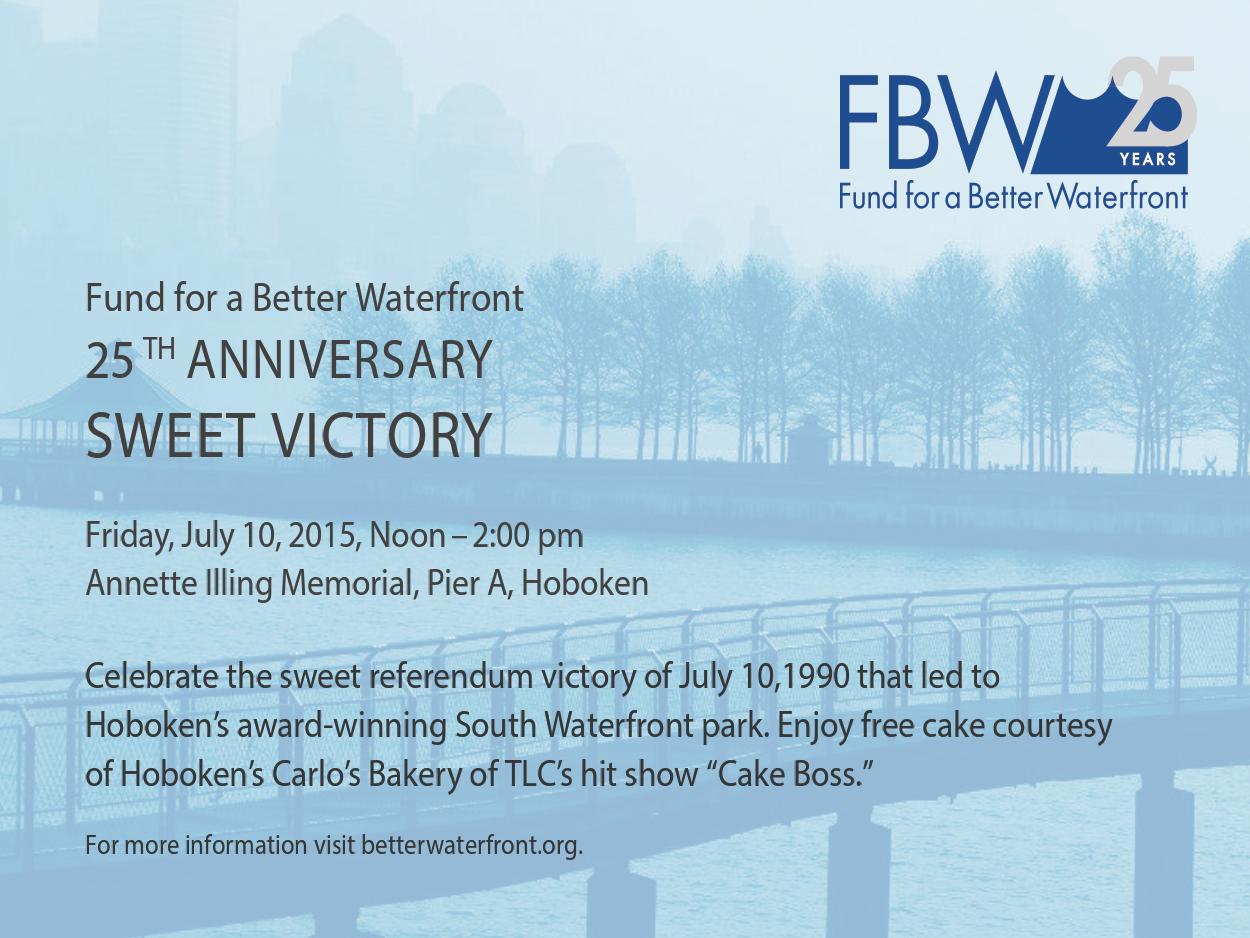 Please join us on July 10th to celebrate that historic day 25 years ago.
Learn more about FBW's Connect the Waterfront: 25th Anniversary fundraiser and support the creation more open space.
The Fund for a Better Waterfront is a 501(c)(3) nonprofit organization.