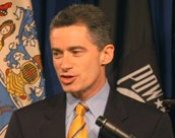 'Political fund-raising and the peoples business all happen in the same meetings over the same table.' — Gov. James McGreevey.
(October 2004)
On July 28, State Senator Bernard Kenny sent out an invitation to a reception at the Mayfair Farms in West Orange, New Jersey honoring Hoboken Mayor David Roberts. This event, benefiting the Hoboken Democratic Party, did not take place until September 13, but the checks began rolling in the week after the invite.
Mark Settembre of URSA Development contributed $7,000. Michael Barry of Applied Companies wrote a check for $5,000, as did Ben Godgnowski of Toll Brothers, David Harris of Applied Risk Services and Anthony Cimino of Schoor DePalma. Another developer, Lawrence Bijou, kicked in $4,000. Attorney Donald Scarinci of Scarinci & Hollenbeck also contributed $4,000 as did Martin Statfeld, an insurance consultant. David Milkosky of Ernst &Young gave $3,000.
What these big contributors had in common were either large development projects pending in Hoboken or hundreds of thousands of dollars in contracts with the City of Hoboken since Roberts took office as mayor in July 2001. URSA Development currently has a high-rise residential project before the Hoboken Zoning Board requiring numerous variances. Applied Companies is seeking to build a 27-story hotel on Hoboken's waterfront. Scarinci & Hollenbeck has garnered over $1 million in legal fees working for the City. Schoor DePalma, the engineering firm, has earned over $662,000. Ernst & Young, the accounting firm, has held $1.1 million in contracts. The City has paid $1.4 million to Allied Risk Services.
On November 2, Hoboken voters will have the opportunity to limit the practice of "pay-to-play" where firms make large political contributions with the expectation of securing municipal contracts. An ordinance entitled "Public Contracting Reform" will be on the ballot in response to a citizen-initiated petition. A majority of "yes" votes will result in this ordinance, originally drafted by Common Cause New Jersey, to become law. People for Open Government, a Hoboken civic group, has spearheaded the campaign to pass this ordinance in accordance with the state's Initiative and Referendum statute.
"The evidence is damning," states Ann Graham, Chair of the People for Open Government. "Our research shows a clear and convincing correlation between businesses who receive lucrative no-bid contracts from the City and those who contribute to the campaign coffers of the current administration. By limiting the amount businesses can give elected officials and political candidates we hope to create an accountable, transparent government in Hoboken."
The total raised for the Hoboken Democratic Party in response to Senator Kenny's latest appeal came to $147,492. Two-thirds of the funds came from Hoboken developers and firms with municipal contracts. Most of the remainder came in from Hoboken businesses and municipal employees. Fire fighters and fire officers, who recently concluded negotiations on their contract with the City gave a total of $9,500.
Since running for mayor in the spring of 2001, David Roberts has raised over $1.5 million in campaign contributions. These funds have been channeled primarily through two political organizations, the Hoboken Democratic Party which he chairs and Hoboken United. Again, most of the funds raised come from local developers and city contractors. The largest contributors to date with City contracts are Sarkisian Florio & Kenny ($35,700), Scarinci & Hollenbeck ($31,850), Schoor DePalma ($29,300), NW Financial ($26,900), Ernst & Young ($25,800) and Allied Risk Services ($21,600). These funds helped the Mayor get elected and then maintain his slim five to four council majority in the 2003 council race.
Contributions from principals at Scarinci & Hollenbeck, Allied Risk Services, Rivardo Schnitzer & Capazza, Wolff & Samson, Hill-Wallack, Business & Government Insurance Agency, Schoor DePalma and Ernst & Young helped to bankroll Roberts' run for mayor in April and May of 2001. Individuals from these firms contributed between $5,000 and $8,800 at that time. And all of these firms have been rewarded with large multi-year contracts with the City of Hoboken, the Hoboken Board of Education and/or the Hoboken Parking Authority during Roberts' three and a half years in office.
People for Open Government has foiled several attempts by the City of Hoboken to undermine this voter initiative. The Mayor and his allies on City Council sought to put a weaker, competing "pay-to-play" ordinance on the ballot at the same time. People for Open Government went to court, represented by Renee Steinhagen, the Executive Director of the Public Interest Law Center. Ms. Steinhagen successfully argued before Superior Court Assignment Judge Maurice Gallipoli that the City did not have the statutory authority to put its ordinance on the ballot.
Next the City, along with the Hudson County Clerk, proposed to put on the ballot the full text of the ordinance, first in English and then in Spanish, followed by the public question and interpretive statement. This 3900 word ballot question required a second voting machine, public officials contended. When People for Open Government threatened to return to court, the County Clerk backed down, admitting that their proposed wording for this initiative was illegal. The City of Hoboken and the County Clerk accepted the wording by People for Open Government that included the public question and interpretive statement, in accordance with the state requirements, reducing the text to 400 words.
According to the website politicsandpayoffs.com, believed to be operated by Anthony Amabile, there will be a legal challenge to this ordinance if it passes on November 2. Amabile is Mayor Roberts' political consultant. Despite earlier attempts to thwart the "Public Contracting Reform" ordinance, Mayor Roberts now says that he supports the measure and will vote "yes" on Tuesday. At their October 20th meeting, the Hoboken City Council adopted a resolution endorsing the "yes" vote after being urged to do so by People for Open Government Chair Ann Graham.