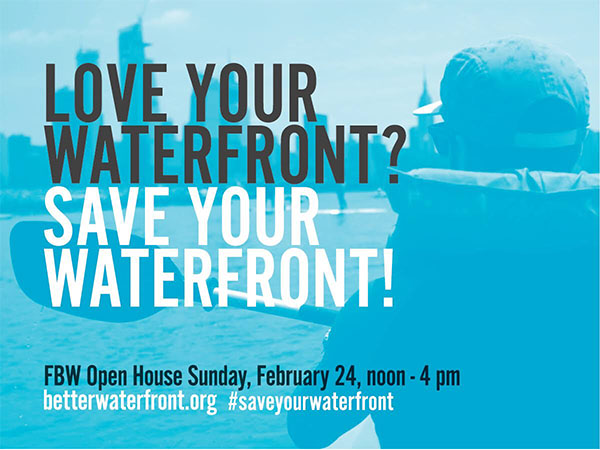 Neumann Leathers Building, 5th floor
300 Observer Highway, Hoboken, NJ
Live music, mimosas, chocolate!
Your waterfront needs some LOVE and it needs it NOW.
NJ Transit and NY Waterway have planned to build a ferry diesel depot at Union Dry Dock, a move that would not only defy the will of the city's residents and elected officials but would also forever destroy the possibility of a High Line-caliber, fully connected public park along Hoboken's riverfront.
NJ Transit has other options for locating the ferry maintenance/refueling facility, most notably at the Hoboken Terminal, but the final decision belongs to Governor Murphy.
Come to FBW's LOVE YOUR WATERFRONT Open House where you'll learn what you can do to save your waterfront park. We'll be writing, calling, emailing and tweeting the Governor all day. Plus, it's a chance to see all the work that goes into planning a world-class waterfront, including the original 1990 Plan for the Hoboken Waterfront and our 4' x 12' architectural model, hand-built by Hoboken residents.
Music will be provided by local singer/songwriter James Calleo.
And did we mention we'll have chocolate?
RSVP to heather@betterwaterfront.org or respond to our Facebook Event here if you can attend.
#SaveYourWaterfront
#LoveYourWaterfront
A Public Park. A Lasting Legacy.