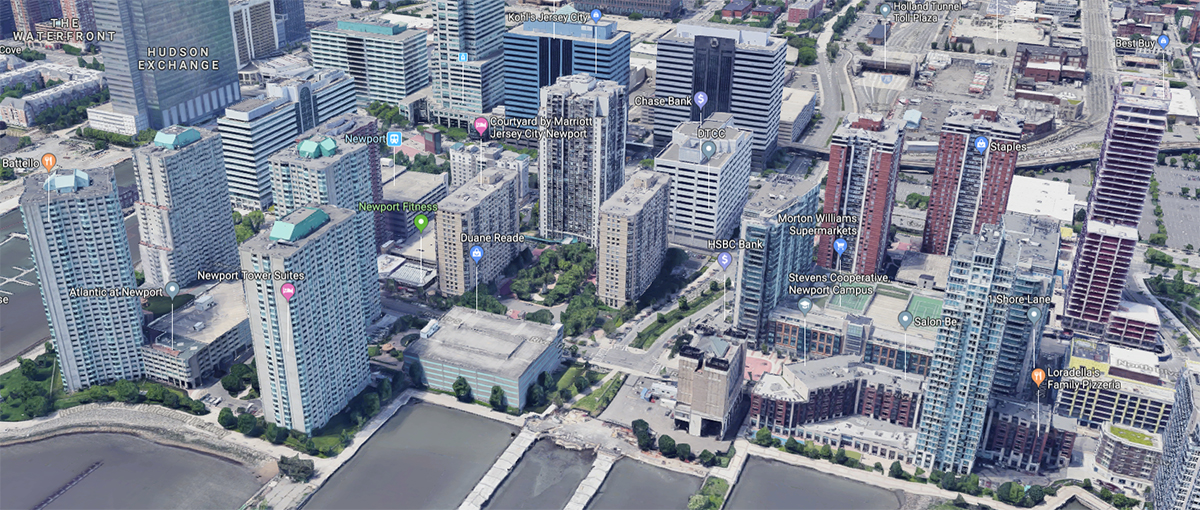 FBW | August 2004

The new Goldman Sachs tower on the Jersey City waterfront designed by Cesar Pelli caught the attention of architecture critic Paul Goldberger. In a July 30, 2004 The New Yorker article, Goldberger writes that this building, "is New Jersey's tallest skyscraper, and, with its graceful profile and elegant glass facade, the most beautiful."
But in reviewing the mile long stretch of new development north of the Goldman Sachs building, Goldberger offers a stinging critique of what he calls the "dreary assemblage" of residential and office towers and big box stores. Goldberger comments that the "pleasing, small-scale urbanity" of downtown Jersey City with its charming mix of brownstones, restaurants and retail stores has not made its way to the newly developed waterfront.
Goldberger continues in his article, "The waterfront literally has no depth — it extends only a few blocks in from the Hudson — and it has no conceptual depth, either. Since it is also a place where some of the office workers live and shop, it ought to feel more like a real city, but instead we have a place with no center other than a suburban mall and, at least until Goldman Sachs came around, not a single building that could be considered a notable piece of architecture."
Most of the development at Jersey City's waterfront and in other Hudson River communities has been developer-driven. The City has played a passive role and thus has failed to assert its planning prerogatives. Goldberger sees this and remarks, "In a great or even a good city, the whole is usually more than the sum of its parts. In Jersey City, the parts and the whole are essentially the same thing, an incoherent splatter of buildings. It is not easy to traverse the place on foot . . . because the streets don't always connect — a lot of the time there aren't any streets. There are parking lots and open spaces and vacant lots and garages, many of which are set on wide streets that aspire to be boulevards but which look more like highways."
Goldberger explains that cities "are built around public places, the most important of which are streets." The failure to establish these streets, the public rights-of-way, is evident not just at Jersey City's waterfront but also in West New York and Edgewater. The lack of streets in these communities makes it more difficult to access the state-mandated Hudson River Waterfront Walkway and diminishes the public nature of the water's edge.
If Goldberger had taken a look further north in Hoboken, he would have found a community that dealt successfully with many of these planning issues. Hoboken extended its streets down to the waterfront. The public street at the waterfront, Sinatra Drive, clearly separates the park from the upland private development. In Hoboken, people walk to the waterfront and its park is like a magnet, where people from all walks of life are drawn to relax and recreate. As a result, Hoboken connects effortlessly with its new waterfront development and waterfront park.
According to The New Yorker article, the real nature of the new Jersey City waterfront "seems to lie somewhere much deeper in New Jersey, in its suburban heart." But Hoboken has escaped that fate and created a real urban waterfront. The small-scale businesses that exist throughout Hoboken are now opening up along Sinatra Drive. Wolfgang Puck Express, the Three-Forty Grill and retail shops are filling up the ground floor area across the street from the waterfront park, adding a new dimension to Hoboken's waterfront, further enlivening the area.
The design of waterfront park in Hoboken is also a success story with its generous plantings of London Plane trees, lining the waterfront promenade, unobstructed views to the river and New York City and considerable open space in a community that has suffered many years for the lack of parkland. The design for the park at Hoboken's south waterfront which has won two national awards is now the envy of many other waterfront communities.
The advantage that Hoboken gained over other waterfront communities was an active citizenry that pushed for a waterfront that reflected Hoboken's scale and character and a waterfront park that was continuous and whole for the entire 1.5 mile riverfront. In 1990, the Fund for a Better Waterfront, a nonprofit civic organization hired its own planner, Craig Whitaker and came out with a plan for the Hoboken waterfront. The plan took the form of a 12 foot by 4 foot scale model and also a book entitled, A Plan for the Hoboken Waterfront. The most successful part of this vision for Hoboken's waterfront is the park which is now about 75% complete.
Goldberger's critique of Jersey City's waterfront is a story about a squandered opportunity. New Jersey's Hudson River waterfront stood empty and vacant fifteen years ago. As the intense development in Jersey City, Hoboken, Weehawken and the towns further north continues, the need to establish clear plans is evident. This way the future of these communities can be shaped in a way that will realize their full potential and will secure the public's interests at these waterfronts.
Related Links