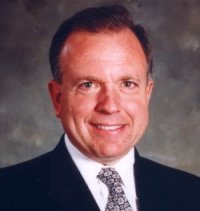 Mayor David Roberts who ran two years ago on a reform platform now relies heavily on contributions from real estate developers to fuel his political campaigns.
(May 2003)
On election day May 8, 2001, City Councilman David Roberts ousted Mayor Anthony Russo from office by promising to reform City Hall. A major theme of the Roberts' campaign was to put the brakes on over-development. He successfully attacked Russo for catering to real estate interests. But after just two years in office, Roberts is now filling his own campaign coffers with large donations from local developers. The Mayor's six City Council candidates are running under the banner of Hoboken United. Additional funds have come to two other political organizations controlled by the Mayor, the Hoboken Democratic Party and Hoboken United for Education.
In April 2003, Dean Geibel contributed $13,200 to Hoboken United through five of his development corporations. He contributed an additional $2,000 to the Hoboken Democratic Party last October and $4,000 through Metro Homes, LLC to Hoboken United for Education in March. Michael Sciarra of the URSA Development Group wrote a $10,000 check to Hoboken United on April 7. In March, URSA contributed $2,000 to Hoboken United for Education and Sciarra's partner, Mark Settembre gave $4,000 to the Hoboken Democratic Party in October. Developer Daniel Gans of Inner City Construction has contributed a total of $17,500 to the Mayor's three political organizations since last fall. Dil Hoda of Colpro, Inc. and 700 Jackson, LLC contributed $10,000 to Hoboken United on April 22, 2003.
Additional developers bringing in big bucks for the Mayor, include Stephen Pozycki of SJP properties who has contributed $4,900 over the past two years and Michael and David Barry of Applied Companies whose donations to Roberts total $5,000 since last fall. Both SJP Properties and Applied companies have been negotiating developer agreements with the City of Hoboken to erect additional high-rise buildings at Hoboken's south waterfront.
Common Cause of New Jersey has vowed to push back the influence that special interest money plays in local politics and government. But despite a concerted lobbying effort by this public interest group, the New Jersey State Legislature has thus far failed to pass a campaign finance reform bill that would curtail what has been dubbed as "pay to play." Several years ago, Hoboken resident John Glasel attempted to get the Hoboken City Council to pass an ordinance drafted by Common Cause that would force individuals and firms with municipal contracts to reveal their campaign contributions. The Hoboken City Council refused to introduce this ordinance.
Since he took office nearly two years ago, Mayor Roberts has brought in about $590,000 through the Hoboken Democratic Party and Hoboken United. In the past four months, these two groups plus the Friends of Mayor Roberts have spent over $321,000 mostly on fundraising consultants, political polling, campaign literature, television ads and advertising in the Hoboken Reporter. Ten percent of these monies was spent for the April Board of Education race and the balance for the May 13th City Council election.
Since Roberts was elected in May 2001, his list of contributors reads like a virtual who's who of individuals and firms doing business with the City of Hoboken. Law firms with big City of Hoboken contracts have given generously. Donald Scarinci of Scarinci & Hollenbeck contributed $11,000 in the past two months. Two law partners of State Senator Bernard Kenny, Barry Sarkisian and Edward Florio gave $17,500 since last August. William Kersey of Schorr DePalma, the engineering firm for the Hoboken Zoning Board, wrote a $10,000 check on April 14, 2003.
Over the past four months, a long list of attorneys, planners, engineers, insurers, landscape architects and other consultants working for the City, its Boards and agencies gave four-figure contributions. Individuals from the firms of Ernst & Young, Allied Risk Services, Leanza & Agrapidis, Rivardo Schnitzer & Capazzi and Business and Government Insurance Agency gave $5,000 donations to Hoboken United. Individuals from the General Land Abstract, PMK Group, Birdsall Engineering and Hanley & Ryglicki kicked in $3,000 each.
Stevens Institute of Technology, a nonprofit academic institution, which has been pushing its own development plans since the fall of 2001, has also contributed regularly, through its representatives, to Mayor Roberts' political coffers. Stevens President Harold Raveche has donated a total of $3,000. Stevens' architect Demetri Sarantitis has provided $3,300. Contributions from Stevens attorney Anthony Coscia of Windel, Marx, Lane & Mittendorf totaled $2,250. This law firm handles all of Stevens' development proposals before the City of Hoboken and is also handling Stevens defamation lawsuit against its most outspoken critic, the Fund for a Better Waterfront. (See Stevens Institute attempts to silence FBW through frivolous defamation lawsuit.) Stevens' attorney Rinaldo D'Argenio and Stevens' Trustees Lawrence T. Babbio, Jr. and Steven Shulman each kicked in $1,000 at the Mayor's fundraiser last month. Trustee Stephen Boswell has contributed $2,000 over the past year and a half.
Although there are 22 challengers to the Mayor's City Council candidates, none of them have succeeded in raising anything close to the hundreds of thousands of dollars the Mayor has brought in. Firms doing business with the City of Hoboken are noticeably absent from the list of contributors on the opposing slates. The Hoboken Alliance for Accountable Government has raised a total of $51,990, much of which has been provided by the candidates themselves. The Hoboken First slate and its candidates have reported a total of $45,200 in income.
Many of the candidates opposing the Mayor's slate have taken loans to pay for their campaign expenses. More than half of the $26,740 raised by former Mayor Anthony Russo for his 3rd Ward race consisted of loans. City Councilwoman Theresa Castellano is running for re-election as an independent, the only incumbent not on the Mayor's ticket. Her income of $27,008 consisted of $21,000 in loans. Beth Mason, who is running on the Hoboken Alliance slate, also took out a $10,000 loan to supplement her race for the 2nd Ward Council seat.
To view campaign finance reports go to New Jersey Election Law Enforcement Commission. On this web page there is a quote of a John Adams statement made in 1765: "And liberty cannot be preserved without a general knowledge among the people … of the characters and conduct of their rulers."
FBW News Archive