HUDSON RIVER FISHERMEN'S ASSOCIATION
10am – 2pm:  Free fishing with HRFA 
The Hudson River Fishermen's Association – an organization that has been steadfastly defending the health of the Hudson River for more than 50 years – will be fishing from Castle Point Pier (just south of the skateboard park on Sinatra Drive) They'll have rods, bait, and instruction for those who might need it. All ages welcome! 
KE ALOHA OUTRIGGER & HOBOKEN COVE COMMUNITY BOATHOUSE
9:30am Beach Clean Up!
Join the Hoboken Cove Community Boathouse and @vasilikisobolta, Mrs. New Jersey Earth 2019, to clean up the trash that invariably washes up on our beautiful beach every day. Some supplies will be provided, but best to bring some sturdy gloves. Results will be documented and uploaded to the @plastic-patrol app. The Boathouse is partnering on the clean up with Resilience Paddle Sports (see below, 9:30am). 
11am – 3pm Free paddling
All are welcome to join in our protected Hoboken Cove for kayaking, stand up paddling (SUP), outrigger canoe and more. For Ke Aloha Outrigger, the focus will be on the outrigger canoe and the Polynesian traditions of respect for our oceans. Open to people of all abilities age 18 and up. Minors must be accompanied by an adult, all gear is provided. The event is free but contributions to the donation jar to help support the program are always welcome!
RESILIENCE PADDLE SPORTS:
Fun, family-friendly STEM activities focusing on biodiversity and the health of our estuary. Environmental educators will provide a mini-workshop for each session and then participants will engage in hands-on data collection that will contribute to important local research projects and global conservation efforts. Each session will take about an hour:
9:30am Trash Free Seas & Beach Clean Up: Along with the Hoboken Cove Community Boathouse's beach clean up, we will be focusing on the problem of plastic pollution in our waterways. We will be serving as water protectors and scientists by collecting and documenting waterfront trash as part of the International Coastal Cleanup and paddleboard champion, Lizzie Carr's Plastic Patrol project. Participants will also learn more about the Hoboken Plastic Bag Ban and the data we collect will contribute to international scientific research. 
11am & 2pm Bioblitz: Ever wonder what lives in the Hudson River? At this station we will be documenting Hoboken's waterfront biodiversity. We will be pulling up traps and using nets and other tools. You'll have the opportunity to learn about our estuary neighbors and identify many of the wonderful species of plants and animals that share our urban waterfront. We'll explore citizen science and how to contribute to helping scientists all over the world with the recording of our observations. Learn what kind of information to record, and how to submit it using the iNaturalist app & platform. Bring your smart phone!
1pm Water Quality: At this station we will be exploring the question: How clean is the Hudson River? Educators will discuss the problem of CSO's and urban runoff and teach the group how to use ecological research equipment. Participants will then measure a variety of parameters of water quality and discuss solutions to water quality problems and rising seas. We'll also provide information about the New York City Water Trail Association Citizen Water Quality Monitoring project that takes place in Hoboken each summer and how to get more involved in keeping our water clean.
FUND FOR A BETTER WATERFRONT & HUDSON RIVER WATERFRONT CONSERVANCY 
Fund for a Better Waterfront (FBW) and Hudson River Waterfront Conservancy (HRWC) will be on hand to talk about their decades-long fight to keep the Hudson River waterfront open and accessible to the public. HRWC will offer free maps to New Jersey's 18.5-mile waterfront walkway along the Hudson River and provide information on the guided walks the organization leads along different sections of the walkway. Fund for a Better Waterfront will have the latest news about a park at Union Dry Dock, updates on the proposed Monarch Towers, and the can answer your questions about completing a fully connected, truly public park along Hoboken's waterfront.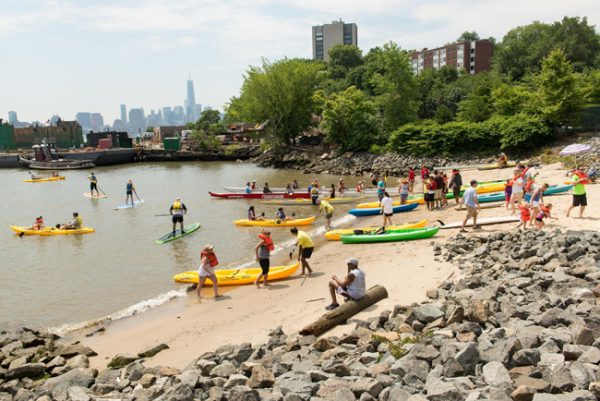 City of Water Day at the Hoboken Cove is supported in part by a grant from the Waterfront Alliance and the New York-New Jersey Harbor & Estuary Program.
Who: The Hoboken Cove Community Boathouse, Ke Aloha Outrigger Canoe Club, Resilience Paddle Sports, Fund for a Better Waterfront & the Hudson River Fishermen's Association are partnering to present City of Water Day at the Hoboken Cove. The nonprofit Waterfront Alliance based in New York City is sponsoring City of Water Day throughout the metropolitan region this same day, encouraging local "in your neighborhood" events.
What: This is a free family festival that will celebrate the Hoboken Cove, a unique spot for accessing the Hudson River via kayak and paddle board as well as providing a protected habitat for marine and shore wildlife. The Boathouse will offer free kayaking from 11 am to 3 pm. Ke Aloha Outrigger will be providing free instruction to paddle in its large outrigger canoe as well as discussions of the important Polynesian cultural connections of these canoes. Resilience Paddle Sports will provide an opportunity for paddle boarding. Naturalist Noelle Thurlow will lead a beach clean up at 9:30am as well as a bioblitz from 11am to 2pm. The Hudson River Fishermen's Assoc. will provide rods & bait for those who want to fish at the public fishing pier south of the Skate Board Park from 10am to 2pm. The Fund for a Better Waterfront and the Hudson River Waterfront Conservancy will have information booths providing information on their decades-long fight to keep the Hudson River waterfront open and accessible to the public.
Where: This event will take place in the Hoboken Cove at Maxwell Place Park, Sinatra Drive North south of 11th Street, Hoboken, New Jersey. The Hoboken Cove is a protected area bounded by Castle Point at the south and the earthen peninsula at Maxwell Place Park at the north that includes the only natural sandy beach along the Hudson River south of the George Washington Bridge.
When: Saturday, July 13, 2019, from 10 a.m. to 4 p.m.
Why: The future of the Hoboken Cove is at risk. The City of Hoboken has restarted the eminent domain process to acquire the Union Dry Dock site for public open space thus connecting Castle Point Park to Maxwell Place Park. If successful, the Hoboken Cove would thus be preserved and enhanced for the public's use for the many activities that take place there, the kayaking, paddle boarding, fishing, etc. This is your opportunity to learn the latest news about these efforts.
Contact information:
The Hoboken Cove Community Boathouse – http://www.hobokencoveboathouse.org/
Jon Miller — jon@hobokencoveboathouse.org – (617) 233-8170
Ke Aloha Outrigger Canoe Club – https://www.kealohaoutrigger.org/
Keith Tsang – keith@kealohaoutrigger.org
Resilience Paddle Sports – http://www.resilienceadventures.org/
Noelle Thurlow — thurlow.noelle@gmail.com — (617) 438-5708
Fund for a Better Waterfront — https://betterwaterfront.org/
Ron Hine – ron@betterwaterfront.org – (201) 659-8965
Hudson River Waterfront Conservancy – http://www.hudsonriverwaterfront.org/
Don Stitzenberg – walks@hudsonriverwaterfront.org – (201) 519-7057