The City of Hoboken should require NJ Transit and the Hoboken Yard developer to restore Warrington Plaza and open it up to the public without delay. Its restoration should not be contingent on future plans for the Hoboken Yard Redevelopment Project.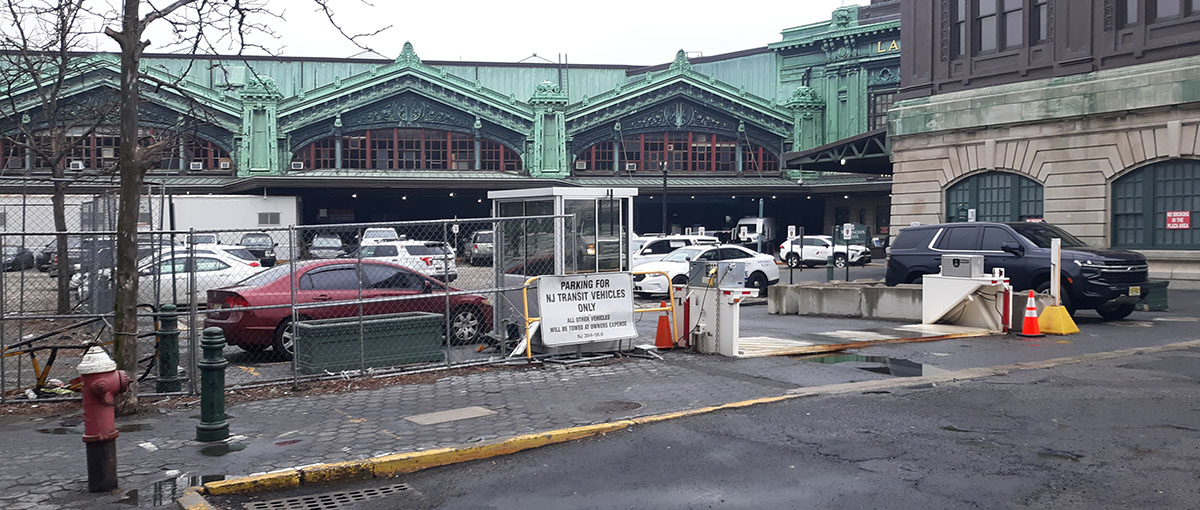 The desecration of Warrington Plaza at the historic site of the Hoboken Train Terminal, closed off to the public for over two decades.
The Warrington Plaza was meant to be a public gateway to Hoboken's most magnificent, historic gem, the Hoboken Train Terminal, a Beaux-Art, copper clad structure built in 1907. Sadly, for more than two decades, the plaza has been closed off to the public behind chain-link fencing, a guard house and concrete barriers. NJ Transit has used the site for an unsightly surface parking lot.
Restoring the Warrington Plaza, formerly called the Erie Lackawanna Plaza, as a public space is long overdue. In 1984, Hoboken Mayor Steve Cappiello announced the opening of the Erie Lackawanna Plaza proclaiming that it is "dedicated to the people of Hoboken." The City obtained grants, including a State of New Jersey Green Acres grant to restore it for the public's use. It has been on the City's "Parks and Open Space Inventory" for the past 38 years.
After the September 11, 2001 attack on the World Trade Center, the plaza was blocked off. Since that time, it has remained a surface parking lot for NJ Transit vehicles in spite of its public open space designation. New Jersey Transit is the owner of 80 acres at the Hoboken-Jersey City border. For the past several decades, the City of Hoboken and NJ Transit have worked on a series of redevelopment proposals, none of which have come to fruition, that would generate income for this beleaguered state agency and make improvements to the Hoboken Terminal and railyard area.
On Tuesday night, the City of Hoboken held a Zoom meeting where NJ Transit and its developer partner LCOR presented its latest plans for buildings at two sites: a 28-story residential tower on the south side of Observer Highway between Washington and Bloomfield Streets, and a 20-story commercial building at the southeast corner of Hudson Street and Hudson Place. The residential tower contains 389 units. The commercial structure is 365,000 square feet.
LCOR stated that construction of the residential tower would begin in 2023. The completion date for the commercial site is scheduled for early 2029. No firm date has been given for the restoration of the Warrington Plaza. In the presentation, they made an incorrect assertion that improvements to the Plaza would be creating new public open space.