Who: The Hoboken Cove Community Boathouse and Ke Aloha Outrigger Canoe Club present the Hudson River Cup and Polynesian Ohana Festival, Saturday, July 27th. The Hoboken Cove Community Boathouse and its outrigger partner, Ke Aloha Outrigger Canoe Club, provide free paddling to more than 6,000 people along Hoboken's Hudson River Waterfront each year, working to facilitate public access to the waterways of New York and New Jersey through first-rate watersport programs and education.
What: The Hudson River Cup is a canoe, stand-up paddleboard (SUP) and sea kayak race that is the first of its kind on the Hudson River along the Hoboken shoreline. The race welcomes elite and experienced paddlers willing to take on the challenges of the Hudson River and New York Harbor, paddling against the dramatic backdrop of New York City and the Statue of Liberty. In addition to the 5 and 8-mile races, the event will include free stand-up paddleboarding at the Hoboken Cove. The Polynesian Ohana Festival, a free event welcoming all ages, celebrates Polynesian culture and history with a wide variety of events including music, dancing, food trucks as well as arts and craft tents. This year the Ohana festival will feature a cardboard kayak race, where participants design, build then race their boats on the cove.
Where: The Hudson River Cup and the Polynesian Ohana Festival will take place in the Hoboken Cove at Maxwell Place Park, Sinatra Drive North and 11th Street, Hoboken, New Jersey. The Hoboken Cove, the only natural sandy beach along the Hudson River south of the George Washington bridge and part of Hoboken's public waterfront park, is bounded by Castle Point at the south and the earthen peninsula at Maxwell Place Park at the north.
When: Saturday, July 27, 2019, from noon to 4:00PM
Race Schedule: Saturday July 27, 2019. (Times subject to change.)
9:30AM – 11:00PM: Registration and Check-in / Staging
11:00PM – 11:30PM: Race Orientation Meeting
12:00PM: Race Start
1:30PM – 2:30PM: Projected Race Finish
3:00PM: Awards Ceremony
​Festival Schedule
12:00PM: Ohana Festival Opens
12:00PM – 4:00PM:Family Tent Arts and Crafts
1:00PM: Check in, Cardboard Kayak Race
1:15PM – 2:30PM: Cardboard Kayak Design and Build
2:45PM Cardboard Kayak Race
3:00PM-4:00PM: Free Stand-Up Paddleboarding
4:00PM: Ohana Festival Closes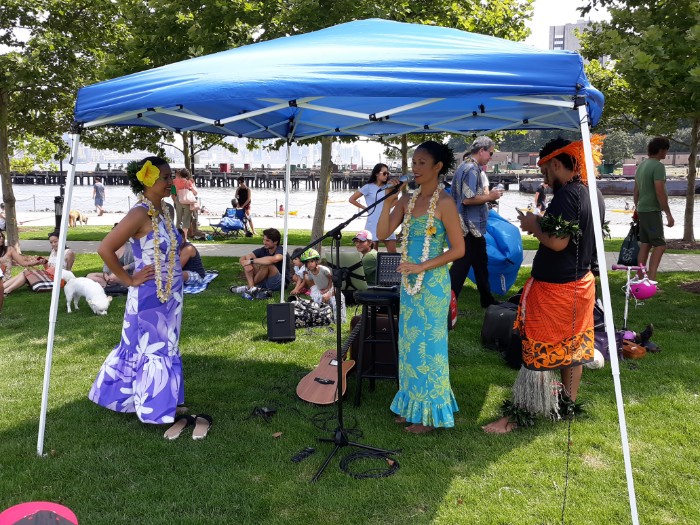 Why: The purpose of this event is to promote and educate about water sports, public access and family activities at the Hudson River waterfront. The Polynesian Festival strives to deepen knowledge and awareness of outrigger canoeing's Polynesian roots and its extensive global reach.
Contact information:
Hudson River Cup – http://www.hudsonrivercup.org/
The Hoboken Cove Community Boathouse – http://www.hobokencoveboathouse.org/
Ke Aloha Outrigger  – https://www.kealohaoutrigger.org/
Jon Miller — jon@hobokencoveboathouse.org – (617) 233-8170
Oscar Hernandez Oscar@hobokencoveboathouse.org – (908) 838-2763
Keith Tsang – keith@kealohaoutrigger.org