Ron Hine | FBW | April 20, 2021
By far, the best portion of Hoboken's riverfront park, with its canopy of London Plane trees and generous swaths of open space, is located at the South Waterfront between Newark and Fourth Street. None of this would have been possible without the political leadership of Anthony Russo who passed away on April 19.
We had no political support in the 1990 referendum battle over the South Waterfront. After our victory, the City sought to reverse the results with a second referendum in 1992. This time the Coalition for a Better Waterfront found one elected official to partner with — Third Ward Councilman Anthony Russo.
Russo, with his civic association, had built a formidable political base and a loyal following. I first learned about his uncanny political gifts as our groups partnered in this second referendum campaign and when he spoke at our rallies. This time, we won again, but by a more comfortable margin.
Following this referendum victory, Anthony Russo launched his successful campaign for mayor in 1993. He defeated Ira Karasick, an attorney who in 1990 had successfully defended our right to a referendum in a case that went to the New Jersey Supreme Court. Everyone predicted that we would lose the 1992 referendum, with the political establishment outspending us by a ten to one margin, and so did Mr. Karasick who remained neutral on the 1992 referendum issue.
Early in his administration, Mayor Russo was especially responsive to community concerns about development. We worked closely with the Mayor and his staff primarily through the Hoboken Waterfront Corporation that had been set up during the previous administration of Mayor Pat Pasculli. Working with professional planners, the Corporation came up with a South Waterfront Redevelopment Plan that was supported by Mayor Russo and adopted by the City Council in 1995. It included most of the principles advocated by the Fund for a Better Waterfront, most especially that all the land and piers on the riverside of Sinatra Drive would become a public park instead of additional commercial and residential development.
Two years into his administration, Mayor Russo was campaigning with David Roberts who sought reelection as the Sixth Ward Councilman. They happened to knock on the door of Sixth Ward resident Cassandra Wilday, a landscape architect who played a principal role in developing FBW's Plan for the Hoboken Waterfront. Toward the end of their chat, Mayor Russo said, "Let me know if there is anything that I can do for you." Ms. Wilday responded, "Why is it that I am the low bidder on every park job in Hoboken but I never get the contract?" Russo responded emphatically, "The next job is yours." Subsequently, Ms. Wilday, who teamed up with landscape architect Henry Arnold of Princeton, got the contract to do the landscape design for the South Waterfront which went on to garner national recognition.
Toward the end of his administration, Mayor Russo was instrumental in getting the Port Authority to pay for most of the cost of building Pier C Park at the South Waterfront. Pier C Park with its creative play equipment is especially popular with children.
Although Mr. Russo's criminal conviction is most often attached to his name, people should recognize that we would not have the award-winning park at the South Waterfront without his political leadership.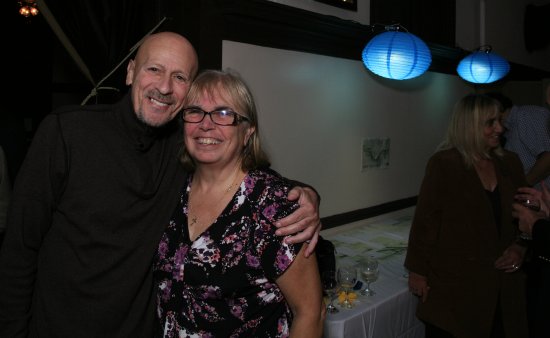 Anthony Russo with his wife Michelle at FBW's 25th anniversary Connect the Waterfront event
Funeral mass will be offered on Saturday, April 24 at 9:30 a.m. at St. Francis Church, Hoboken which can be viewed via livestream. Go to Saint Francis Church Hoboken YouTube. Interment will follow at Holy Cross Cemetery in North Arlington. Visitation will be held on Friday from 2 to 8 p.m. at Failla Memorial Home, 533 Willow Ave., Hoboken. Visitors are asked to wear a face covering and practice social distancing.
Related links