Connect the Waterfront
FBW annual fundraising party
Thursday, October 20, 2016
7:00 to 9:30 pm
Kolo Klub, 1422 Grand Street
Hoboken, NJ
For over 25 years, FBW has been guided by a single, unifying vision to secure an undeniably public waterfront in Hoboken. You can help realize this goal by joining the festivities on October 20 for this, our annual fundraising party. The event will be held at the Kolo Klub in Hoboken's new, revitalized neighborhood just to the north of the 14th Street viaduct. There will be an open bar,* hors d'oeuvres by Anthony David and entertainment by the John Bauers Trio. Bucket raffle drawings and a silent auction afford a chance to win the many prizes donated by local vendors.
FBW Board member Heather Gibbons has produced a new video that will debut as part of the night's program. The 4th Annual FBW Riparian Award will be presented to Renee Steinhagen, Esq. the Executive Director of New Jersey Appleseed Public Interest Law Center who has become one of the state's leading public advocates for government and corporate accountability.
Ms. Steinhagen currently represents FBW in litigation opposing the controversial Monarch Towers project at Hoboken's north waterfront. For five years, Ms. Steinhagen defended FBW against a SLAPP suit (Strategic Litigation Against Public Participation) that aimed to silence our organization. She has also been instrumental in protecting the right of Hoboken and New Jersey voters to initiatives and referenda.
Emmy-winner John Bauers is a composer, songwriter, singer and pianist. For this event he will perform with his jazz trio. He also plays with two big bands: Swingadelic and Straight Ahead.
Last year, the FBW Riparian Award went to Daniel Gans & George Vallone, the original developers of Maxwell Place. In 2014, the award went to architect and urban planner Craig Whitaker and in 2013, FBW honored landscape architect Henry Arnold who designed the park at Hoboken's South Waterfront.
For Sponsorship Opportunities click here.
*Open bar includes wine, beer and soda; cash bar for mixed drinks.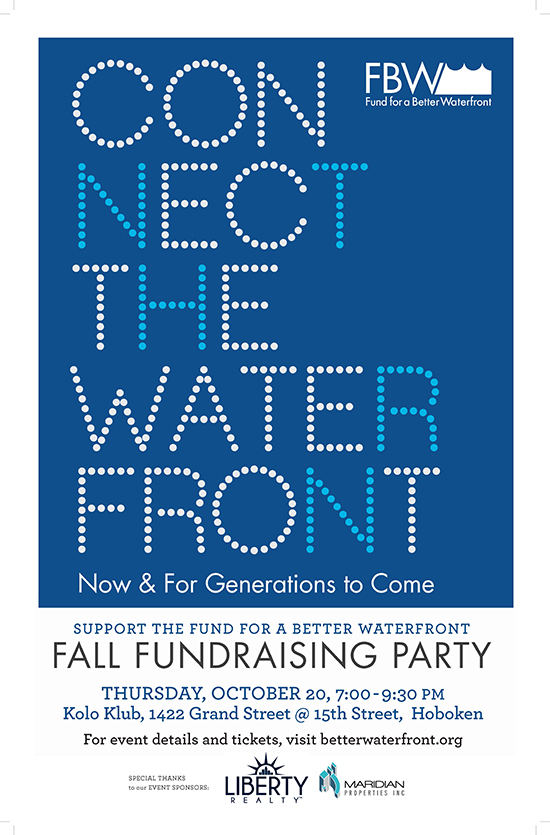 To make an additional donation, click the button below. Or you can mail your check to the Fund for a Better Waterfront, P.O. Box 1965, Hoboken, New Jersey 07030. The Fund for a Better Waterfront is a 501(c)(3) nonprofit organization.