Reception: Thursday, April 18 – 7 p.m. to 10:00 p.m.
Exhibit: Friday, April 19 through Sunday, April 21
12:00 to 6:00 p.m.
Proto Gallery, 66 Willow Avenue, Hoboken, New Jersey
Hurricane season begins in a few short weeks on June 1, and will continue in earnest until November 30. Are we ready? Is Hoboken prepared to meet the challenges of the next storm season?
The Fund for a Better Waterfront is organizing a series of events, The Storm Next Time: Will Hoboken Be Ready?, designed to provide Hoboken's residents with on-going access to current information on the scope of the problem and the progress we're making toward creating and implementing cost-effective solutions.
The first event of the series titled, "Defining the Problem" will take place at the Proto Gallery, 66 Willow Avenue in Hoboken. The event opens with a reception and presentation on Thursday, April 18 at 7:00 p.m. Following is a 3-day exhibit running from Friday, April 19 through Sunday, April 21 from 12:00 p.m. to 6:00 p.m.
Thursday night, several people will tell their personal stories of how they were impacted by superstorm Sandy. The exhibit will display flood maps that demonstrate the impact of various flooding scenarios on Hoboken. In addition, the gallery will showcase possible prevention and mitigation solutions used to protect low-lying areas around the world.
The exhibit will conclude on Sunday, April 21 with a screening of The Big Uneasy, a film that documents the events that led to the tragic flooding in New Orleans during Hurricane Katrina. The film will be shown at 4:00 p.m.
Super-storm Sandy flooded 70% of Hoboken's landmass. By the time it reached our shores, it had been downgraded to a tropical storm. Imagine the amount of damage and flooding had Sandy, upon landfall, remained a category 1 or category 2 hurricane or worse.

View Directions to Proto Gallery in a larger map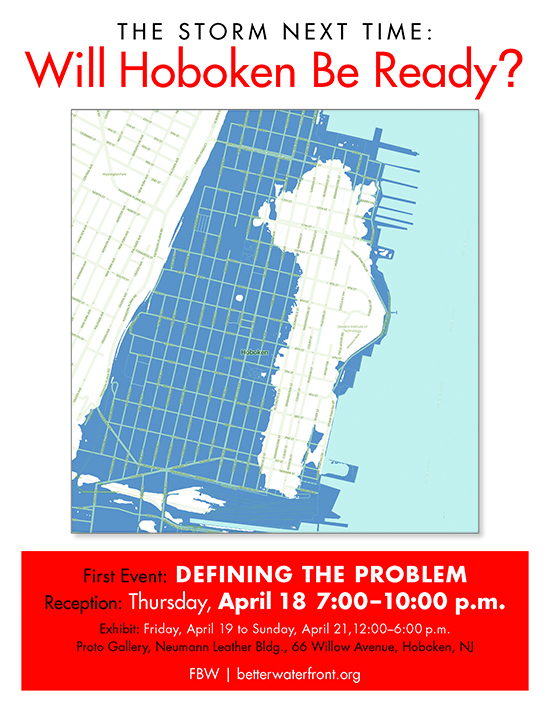 As Sandy demonstrated, Hoboken is frighteningly vulnerable to significant rain and wind driven storms. We are afflicted with low elevations, antiquated infrastructure and proximity to the sea. Add to that the scientific consensus that climate change will continue to produce rising sea levels and extreme weather events of increasing frequency.
Upcoming events that will be part of this series will focus on solutions in New Orleans, the Netherlands, New York City and elsewhere with panels of the world's leading experts.
The event, catered by Zafra Kitchens, is free and open to the public. Please join us then and kindly RSVP to attend the reception on Thursday, April 18 at fbw@betterwaterfront.org.
Related links
The Big Uneasy: A cautionary tale
Directions to Proto Gallery