Make no little plans. They have no magic to stir men's blood and probably will not themselves be realized. So said famous architect and urban planner Daniel H. Burnham. His words aptly pertain to the latest waterfront scheme proposed by Stevens Institute of Technology. On April 21, Stevens Institute of Technology is scheduled to appear before the Hoboken Zoning Board with its revised plans for the site along Sinatra Drive between 5th and 6th Streets.(April 8, 2009) Read story.
Yesterday, Hoboken Mayor David Roberts cut the ribbon to officially open the waterfront park at Maxwell Place. What has been in the works since early 2001, prior to Roberts being elected Mayor, is now becoming a reality. The first phase of this park includes a natural beach with a public boathouse, an earthen peninsula that provides a path for the Hudson River Waterfront Walkway, and a children's play area. (September 19, 2007) Read story.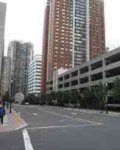 The new Goldman Sachs tower on the Jersey City waterfront designed by Cesar Pelli caught the attention of architecture critic Paul Goldberger. In a July 30, 2004 The New Yorker article, Goldberger writes that this building, "is New Jersey's tallest skyscraper, and, with its graceful profile and elegant glass facade, the most beautiful." But in reviewing the mile long stretch of new development north of the Goldman Sachs building, Goldberger offers a stinging critique of what he calls the "dreary assemblage" of residential and office towers and big box stores. (August 2004) Read story.
Inga Saffron, the architectural critic for the Philadelphia Inquirer has been writing about a troubled waterfront development project at Penn's Landing in Philadelphia. Penn's Landing, over the past twenty years, has gone through four different plans and four developers. (December 2002) Read story.
Ten years ago, Pier A at Hoboken's south waterfront was slated for a 1.1 million square foot, 33-story office complex to be built over the Hudson River. Today it is a five-acre award-winning public park that people flock to on a warm summer day. (December 2002) Read more
.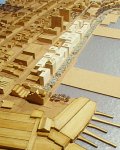 Many of the features of the plan created by the Fund for a Better Waterfront (FBW) in 1990 are now being realized along Hoboken's waterfront. The New Jersey Office of State Planning, in its recently published a book entitled Designing New Jersey, point to the FBW plan as a noteworthy example of good design and planning. This publication prominently featured the FBW plan with a photograph of the FBW model displayed on the front cover and again in a chapter entitled "Respecting Context."(October 2000) Read more.