Please join the Fund for a Better Waterfront and the Eastern Environmental Law Center (EELC) on Tuesday, December 11, 2012, 7 PM for our Hoboken's Waterfront Parks in Peril fundraising event at the Elks Club. FBW with legal representation from EELC has been working overtime to avert a series of proposals that would be disastrous for Hoboken and its waterfront:
We can remedy these ill-conceived proposals but need your support to do so. We have invited several speakers and there will, of course, be food, drink and entertainment. This will be a fun-filled event for a serious cause.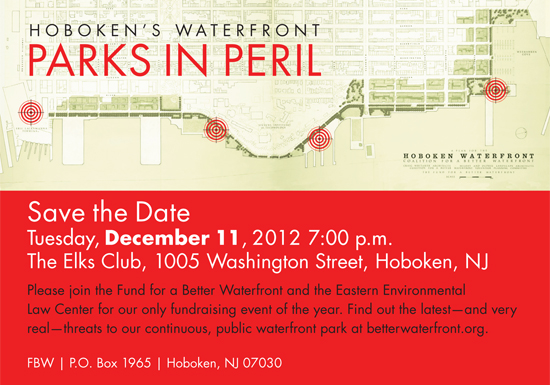 To make an additional donation, click the button below. The funds raised will be put to use to help pay for our lawyers, planners and staff who have spent countless hours on these critical issues.
Or you can mail your check to the Fund for a Better Waterfront, P.O. Box 1965, Hoboken, New Jersey 07030.
FBW and EELC are both 501(c)(3) nonprofit organizations. FBW was established in 1990 to secure a waterfront along New Jersey's Hudson River accessible to all for the generations to come. EELC is a public interest law firm located in Newark, NJ, working on behalf of environmental and conservation organizations to protect communities, open space, wildlife and public health of the eastern United States.