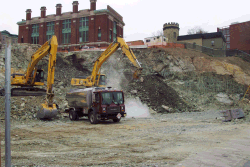 Excavation site in April 2002, where 35,000 tons of serpentine rock containing asbestos was blasted and carted away by Stevens.
Attorneys defending nonprofit organization say legal action is unprecedented attack by university on First Amendment right of free speech
(February 2003)
Today the Fund for a Better Waterfront and its team of attorneys called upon Stevens Institute to withdraw a lawsuit that it had filed in an unsuccessful attempt to silence the group. "The sole purpose of this litigation is to inhibit the Fund for a Better Waterfront and its leaders from exercising their First Amendment right of free speech. Stevens seeks to exclude this organization and its principals from engaging in the public debate over the school's development plans," stated Renee Steinhagen, attorney for the group and Executive Director of the New Jersey Appleseed Public Interest Law Center.
"All too often, real estate developers try to use frivolous lawsuits to bully community advocates who oppose their construction projects. But the plaintiffs in these frivolous lawsuits are typically commercial developers. Until today, it was unheard of for a university — an institution dedicated to the promotion of an open forum for spirited debate and intellectual freedom — to bring one of these strong-arm suits. Stevens must now do the right thing and withdraw its suit against FBW," said Edward Lloyd, Director of the Environmental Law Clinic at Columbia Law School and co-counsel for the group.
Steven's lawsuit asks the court to sanction FBW, its Executive Director and its President for statements made in April 2002 to the Hoboken community about asbestos risk at a Stevens construction site. Ms. Steinhagen described this lawsuit against FBW as a "SLAPP" suit. "SLAPP" is an acronym for Strategic Litigation Against Public Participation. The Courts in New Jersey have shown considerable disdain for "SLAPP" suits, which are aimed at shutting down public dissent and free speech. In 1999, a New Jersey Appellate Court handed down a landmark decision in LoBiondo v. Schwartz. In a strongly worded opinion, the LoBiondo court dismissed the plaintiff developer's defamation suit against community land-use advocates. The lawyer representing the defendant in LoBiondo was Ira Karasick, who is part of the legal team defending the Fund for a Better Waterfront.
On January 13, 2003, Stevens Institute of Technology unveiled its campus master plan before a crowded session of the Hoboken Planning Board. Two days later, this engineering school filed a defamation suit in New Jersey Superior Court against its most vocal critic: the nonprofit Fund for a Better Waterfront, which is dedicated to creating a public park along the Hudson River waterfront.
Last March, the Fund for a Better Waterfront wrote an editorial charging that Stevens Institute's plans to build on several waterfront sites would destroy the opportunity for Hoboken to complete its proposed continuous waterfront park. That same month, Stevens Institute began the excavation of the serpentine rock on its campus to make way for a 725-car parking garage. The construction site is located in a densely populated, urban environment, adjacent to two academic buildings and across the street from a public soccer field and a little league field. A month later, Ron Hine, Executive Director of the Fund for a Better Waterfront and a defendant in Stevens' lawsuit, discovered that this rock contained asbestos and immediately posted an article on the organization's website.
Stevens is currently pressing the City of Hoboken to amend its zoning ordinance to accommodate its development plans. The Fund for a Better Waterfront, working with an urban planner, has developed alternate plans that show how Stevens can expand its campus without intruding on the proposed waterfront park, that is now built along 75% of Hoboken's 1.5 mile stretch of riverfront.
International Real Estate Digest States are Starting to Slap Down SLAPP Suits.
New Jersey Superior Court, Appellate Division Decision LoBiondo v. Schwartz.
Excerpts from November 20, 2003 deposition of Assistant Director of the Hudson Regional Health Commission, Gary Garetano.